Services Held Today For Longtime Louisiana Horseman Robert ''Sonny'' Edson Harris
Louisiana horseman Robert "Sonny" Edson Harris, 100, was laid to rest today in Bunkie, LA.

© Courtesy Melancon Funeral Home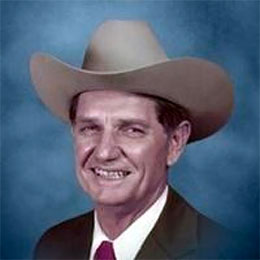 BUNKIE, LA—JULY 15, 2021—
Funeral services for Robert "Sonny" Edson Harris were held today (July 15) at the Calvary Episcopal Church in Bunkie, LA. Rev. Pete Smith officiated. Entombment with Military Honors was at the Pythian Cemetery in Bunkie under the direction of Melancon Funeral Home.
Sonny, age 100, died peacefully at home on July 12, 2021. Born December 10, 1920, he grew up in Melville, Louisiana. At the age of 15, he and his parents moved to Bunkie, Louisiana where his parents opened the Blue Moon Restaurant and Night Club in the old Bunkie recreation center. In 1936 they built the New Blue Moon Club with a grand opening in December 1936.
Sonny graduated from Bunkie High School in 1940 and briefly attended LSU before returning home to become part-owner of the Blue Moon with his father. Shortly after the start of World War II, he enlisted in the United States Coast Guard and served until the end of the war.
In the early 50s, he and his father established a successful Black Angus cattle Ranch. After several years of operation, they decided to disburse the herd and held a sale in the early 60's.
After that, Sonny decided to become a Quarter Horse breeder. He bred his show mare "Joe's Watch" to the stallion "Lightning Bar", in Arizona. In early 1961, she had a foal which he named "Lightnin Bar, Jr.".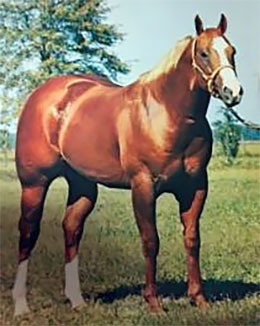 Harris bred-and-owned Lightnin Bar Jr, the first horse inducted in the Louisiana Quarter Horse Association Hall of Fame.
© Louisiana Quarter Horse Association
In 1963, he began accepting outside mares to be bred with his young stallion. Mares were brought to Horseshoe Ranch. For 15 years, he sired performing and racing Quarter Horses which ran at tracks across the United States.
Lightnin Bar Jr. had a superior in halter and produced a total of 481 foals. His get earned a total of 570 halter points, 298 performance points, 2 AQHA Champions along with 92 race starters earning a total of $179,212.
Sonny's stallion died in 1979 and he decided to not attempt a continuation of his breeding operations.
Sonny became an approved judge for the American Quarter Horse Association as well as the Palominos and Paint Horses Association which he judged throughout the United States. He was a lifetime member and had served as a Director and Director Emeritus at the American Quarter Horse Association. He was also a longtime member of Louisiana Quarter Horse Association.
He received a Lifetime Achievement Award from the Louisiana Quarter Horse Breeders Association on April 11, 2015. He and his stallion, "Lightnin Bar, Jr.", were also inducted into the 2017 Hall of Fame by the Louisiana Quarter Horse Association on February 24, 2018.
He is survived by his wife of 62 years Sybil, daughter Lillian Joy Cheramie (Allen) of Metairie, Louisiana and son Vines Harris (Michele) of Bunkie, Louisiana. He was preceded in death by his parents, Vines and Mary Turk Harris
In lieu of flowers, a donation can be made to the Calvary Episcopal Church, PO Box 679, Bunkie, LA 71322, Louisiana Quarter Horse Breeders Association, 105 Carlyon Lane, Alexandria, LA 71303 or the Louisiana Quarter Horse Association, 14560 Miscar Rd, Kentwood, LA 70444.