2019 Louisiana-Bred Champions To Be Honored October 1
LQHBA Louisiana Million Futurity(G1) winner Mardi Gras Paint will be honored as top Louisiana-Bred money earner for 2019.

© Coady Photography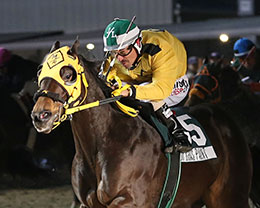 OPELOUSAS, LA—SEPTEMBER 22, 2020—
LQHBA will honor their 2019 Louisiana-Bred Champions on Thursday, October 1st, opening night of the Fair Grounds Quarter Horse meet at Evangeline Downs in Opelousas.
The track will host 13 trials for the $475,000 LQHBA Sale Futurity(RG1) on opening night.
LQHBA would have honored their champions during the annual banquet and awards presentation in April, but due to the COVID-19 pandemic it was cancelled.
Trophies and/or belt buckles will be presented to Champion of each category after each race in the Evangeline Downs winners circle weather permitting. An alternative location inside will be available if the weather is uncooperative.
First post is 5:35 pm (CDT).
LQHBA will honor it's 2020 Hall-of-Fame inductees during the LQHBA Louisiana Million Futurity trials or finals later in the Evangeline Downs meet this fall.
Below is a schedule for the 2019 Louisiana Bred Champions Award Recognition on October 1st:
RACE 1
Champion Jockey
> EVERARDO RODRIGUEZ
Champion Trainer
> KENNETH L. ROBERTS, SR.
RACE 2
Champion Owner
> JOSE ALFONSO RAMOS
Champion Breeder
> GRANT FARMS LLC (Jon & Donna McPherson)
Champion Broodmare
> SECOND DOWN PERRY (Owner: Grant Farms - Jon & Donna McPherson)
RACE 3
Champion Stallion
> HEZA FAST DASH (Owner: Heza Fast Dash Syndicate )
RACE 4
Champion 2-Year-Old Filly
> TF SHEZ JESS DASHIN
Owner: Down South Racing, LLC
Breeder: Tate Farms
RACE 5
Champion 2-Year-Old Colt (Co-Champions 3)
> JJ JESS AN METEORITE
Owner: J. and J. Stables, LLC
Breeder: Juan J Bazaldua
> LOVE THE WAY YOU FLY
Owner: Todd Matte
Breeder: Copper Spring Ranch LLC
> JESS A FAST ROGUE
Owner: Paragon Farms LLC
Breeder: Triple M Farms LLC
RACE 6
Champion 2-Year-Old Gelding (Co-Champions)
> MARDI GRAS PAINT
Owner: Jose Alfonso Ramos
Breeder: Eddie Cramer / Tom or Bill Maher
> ED O
Owner: Edwardo Lopez
Breeder: Anthony Gaspard/E A Landry Jr
Champion High Money Earner
> MARDI GRAS PAINT
Owner: Jose Alfonzo Ramos
Breeder: Eddie Cramer / Tom or Bill Maher
RACE 7
Champion 3-Year-Old Filly
> CORONA DOWN PERRY
Owner: Carlos Acuna
Breeder: Grant Farms LLC
Champion 3-Year-Old Colt
> FOLLOW MY WAGON
Owner: Julio Cesar Rodriquez
Breeder: Karen Darling Falgoust
RACE 8
Champion 3-Year-Old Gelding (Co-Champions)
> TDZ LOUISIANA TOAST
Owner: Juan F. Martinez
Breeder: Tony Doughtie
> HEZA MADE MAN
Owner: Martina Carmen Araujo Diaz
Breeder: Rodney or Phillip Debenedetto
RACE 9
Champion Aged Mare
> FASTDASHING LASSIE
Owner: Montgomery Equine Center
Breeder: Jumonville Farms/Burnett Ranch
Champion Aged Stallion
> SAN LORENZO CORONA
Owner: Rogelio Marquez Jr.
Breeder: Jim & Natalie Montgomery
RACE10
Champion Aged Gelding (Co-Champions)
> DLJ IMMA B FAMOUS
Owner: Myron McKinnon
Breeder: Donald Henderson
> GUNNA BE ALRIGHT
Owner: Jorge Del Fierro, Jr
Breeder: JoBaya Foreman
RACE11
Champion Distance Mare
> JESSI JAM
Owner: MO Racing
Breeder: Juan San Miguel, Jr.
RACE12
Champion Distance Horse (Co-Champions)
> RAKIN IN THE JAX
Owner and Breeder: Angela Dowden
> JW LOSIN CONTROL
Owner and Breeder: J W Owens
RACE13
Champion Claiming Horse (Co-Champions)
> MSWANDAS DASHINGFAST
Owner: Geral Dewitt
Breeder: Arnold J Trahan
> RIO ROJO COSINO
Owner: Kimberly Blackmon
Breeder: Donald G Kelly