Firecracker Futurity(G2) Recap: VIDEO
Jockey Jesse Lee Levario aboard Grade 2 Firecracker Futurity winner Expedyte at Delta Downs Thursday night.

© StallioneSearch / Greg Thompson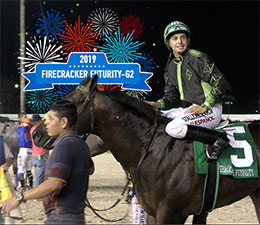 VINTON, LA—JULY 5, 2019—
StallioneSearch.com releases its webcast coverage of the 2019 $308,335 Grade 2 Firecracker Futurity(G2) from Delta Downs in Vinton, Louisiana.
StallioneSearch's Greg Thompson talks with 2019 Firecracker Futurity winner Expedyte's jockey Jesse Lee Levario and trainer Josue Ponce following the race. CLICK HERE to watch the Grade 2 Firecracker Futurity webcast.
Coverage from Delta Downs this week continues the 2019 Louisiana Quarter Horse Racing Series on StallioneSearch.com and Stallionesearch En Español.
Throughout the 2019 racing calendar in Louisiana, StallioneSearch and Stallionesearch En Español provides onsite coverage of these races:
Mardi Gras Futurity (RG2)
Mardi Gras Derby
Harrah's Entertainment Futurity (G3)
Lassie Futurity (RG2)
Laddie Futurity (RG2)
Firecracker Futurity (G2)
Lee Berwick Memorial Futurity (RG1)
Louisiana Classic Stakes (RG2)
Delta Downs La Bred Derby(RG3)
LQHBA Breeders Sales Futurity(RG1)
LQHBA Breeders Million Futurity(RG1)
LQHBA Breeders Derby
Fourth of July week coverage of the Firecracker Futurity(G2), Louisiana Classic Stakes(RG2), Lee Berwick Memorial Futurity(RG1) and Delta Downs LA Bred Derby(RG3) is sponsored entirely by the Louisiana Quarter Horse Breeders Association.
The LQHBA will host its annual LQHBA Yearling Sale in Kinder, Louisiana on August 1-3, 2019.