Harrah's Louisiana Downs Announces Its 2020 Quarter Horse Stakes Schedule
The Mardi Gras Futurity, the first official futurity of the year, set for March 14.

© Hodges Photography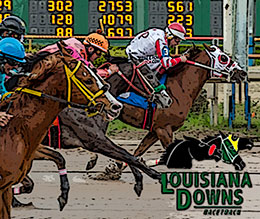 BOSSIER CITY, LA—DECEMBER 4, 2019—
The 2020 Quarter Horse racing season will get underway at Harrah's Louisiana Downs on Saturday, January 4. The 46-day meet will include 12 stakes highlighted by the first official futurity of the year, the $100,000-added Mardi Gras Futurity (RG2) on Saturday, March 14.
Last year's $310,466 Mardi Gras Futurity (RG2) champion Egoizzta Partnership's Hh Gailforce will compete in the $100,000 Louisiana Champions Day Juvenile (RG2) on Saturday, December 14 at Fair Grounds in New Orleans. Mardi Gras runner-up Tf Shez Jess Dashin, owned by Down South Racing LLC, went on to win the $339,931 Lassie Futurity at Delta Downs.
In addition to the Mardi Gras Futurity for Louisiana-breds, the $75,000-added Harrah's Futurity (G3) will be contested on March 18 and is an open 2-year-old championship. Cruz Nava's Trump My Record was victorious this year and continued his exceptional campaign with wins in both the Sam Houston Futurity (G2) and Texas Classic Futurity (G1). He will be one of the top contenders for AQHA Champion 2-year-old honors when their winners are announced in January.
Live racing will be conducted Saturday, Sunday, Monday and Tuesday with a 1:00 p.m. (Central) post time through March 18.
The barn area will open on Thursday, December 19 with training hours set from 6:30 am – 10:30 am. Harrah's Louisiana Downs will also offer schooling races for 2-year-olds paid into the Mardi Gras Futurity as well as the Harrah's Entertainment Futurity.
"We have received strong interest from returning horsemen including Lanny Keith, Vann Haywood, Orlando Orozco, Kenneth Roberts, Sr. and Martin Trejo," said David Heitzmann, Director of Racing. "Several new conditioners, including Heath Taylor, Robert Touchet, and Shane Mason have been assigned stalls this year."
Louisiana Downs 2020 Quarter Horse Stakes Schedule
JAN 04—$15,000 Harrah's Dash 4 YO & Up 350 yards
JAN 11—$15,000 Marathon Stakes 4 YO & Up 870 yards
JAN 18—$25,000 Billy Montgomery 3 YO LA-Bred 350 yards
JAN 25—$15,000 Swift Stakes 4 YO & Up 350 yards
JAN 25—$25,000 Party Girl Stakes 4 YO & Up F&M LA-bred 330 yards
FEB 01—$25,000 Magnolia Stakes 3 YO & Up LA-Bred 870 yards
FEB 08—$15,000-added LAD Maiden Stake 3,4 & 5 YO LA-Bred 350 yards
FEB 15—$25,000 Mr Jess Perry (RG3) 4 YO & Up LA-Bred 330 yards
MAR 14—$100,000-added Mardi Gras Futurity 2 YO LA-Bred 300 yards
MAR 14—$50,000-added Mardi Gras Derby 3 YO LA-Bred 400 yards
MAR 14—$15,000 Leverne Perry Memorial 3 YO & Up 400 yards
MAR 18—$75,000-added Harrah's Futurity 2 YO 300 yards
2020 Quarter Horse Trial Dates
JAN 18—Louisiana Downs Maiden Stake
FEB 22—Mardi Gras Futurity
FEB 23—Mardi Gras Derby
MAR 01—Harrah's Futurity
2020 Schooling Race Dates
JAN 31—Mardi Gras Futurity
FEB 07—Harrah's Entertainment Futurity
* * * * * * * * * * * * * * * *
About Harrah's Louisiana Downs
Located near Shreveport in Bossier City, Louisiana, Louisiana Downs opened in 1974 and was purchased by Caesars Entertainment in December, 2002. With annual Thoroughbred and Quarter Horse racing seasons, the track is committed to presenting the highest quality racing programs paired with its 150,000 square foot entertainment complex offering casino gambling, dining and plasma screen televisions for sports and simulcast racing.