Jockey John Hamilton Wins His 2,000th Career Race
Jockey John Hamilton scored his 2,000th win on closing night at Delta Downs in Vinton, Louisiana.

© Coady Photography


By Martha Claussen
VINTON, LOUISIANA—JULY 18, 2018—How many professional athletes are in their prime at the age of 54? Certainly none in the NFL, NBA, NHL or Major League Soccer. But jockey John Hamilton continues to be at the top of his game and recently won his 2,000th career race.
The milestone took place on Saturday, July 9 at Delta Downs, when Hamilton guided Sweet Caliente Royal to victory for Bulldog Racing and trainer Benjamin Wilbanks. It was the final night of the 2018 Quarter Horse season and Hamilton picked up his sixth leading rider title in Vinton. He made 44 trips to the winner's circle, edging Luis Vivanco by one win.
AQHA statistics show that Hamilton, who began riding professionally in 1984, has ridden 14,654 races with a record of 2,000 wins on mounts who have earned over $26 million.
Reaching his 2,000th victory was not expected as Hamilton was badly injured last November in a spill at Evangeline Downs. Surgery on his broken leg involved the insertion of a titanium rod from the top of his hip to his knee and over 30 staples to close the incision.
"It was a dark time in the beginning," admitted Hamilton. "I wasn't sure if this was an injury that would end my career, or if I would ever be able to walk again."
However, he embarked upon an arduous physical therapy program with the same tenacity he has shown in over three decades in the saddle. His surgeon was amazed; his fellow riders, trainers and many friends in the industry were delighted to see him back in action.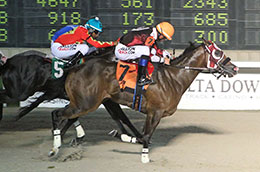 Sweet Caliente Royal, under jockey John Hamilton, gets up over Gamelee in the $40,000 Starter Stakes at Delta Downs to get his 2,000th win.
© Coady Photography
On July 9, he was surrounded by his wife, Sharon, many family members and several of his grandchildren to accept his leading rider award. He was gracious in thanking a host of people for their support.
"I might get the glory for winning a race, but the truth is that I only account for 18 seconds" said Hamilton. "My success is owed to God, my owners, trainers, grooms, gate crew and my wife who has put up with so much! Maybe this title is even sweeter considering what happened eight months ago."
Lifelong friendships have evolved. His former valet and good friend, Thad Briley, bestowed the nickname of "Hambone", which he treasures.
Hamilton serves as a mentor to young riders, most recently, assisting 19-year-old Guadalupe Lucio, Jr.
"Lupe came to Louisiana and didn't know anyone," explained Hamilton. "I saw he was a hard worker and a very humble kid, so I was happy to help him. When he won the Lassie Futurity (on May 18), I think I was happier than he was!"
Hamilton was born in Baytown, Texas. When he was 14-years-old, a Texas horseman, aptly named Jim Dandy, asked if he was interested in riding horses. The next morning, he arrived at his ranch at 4:30 a.m., and his future was sealed.
He has won 99 stakes races so far in his career, including a victory on Feature Jess Rockin in the 2010 AQHA Challenge Championships (G1) and two editions of the Grade 2, Firecracker Futurity at Delta Downs. He scored with Ronnie James in 2012 and this year aboard Patriotic Games.
Several years ago, he moved his tack to Louisiana where he rides exclusively. He and Sharon make their home in Port Barre, Louisiana.
The respected veteran is involved in a variety of charitable endeavors, lending his support to those in need in the racing community.
"It used to be just about me," he admitted. "But this industry has taken care of me and given me so much. It means a lot to me to lead by example, to help those who are injured or need assistance."
* * * * * * * * * * * * * * * * * *
Martha Claussen served as publicity director at Sam Houston Race Park for ten years. She continues to be active in writing, fan education and Quarter Horse racing publicity in Texas, Louisiana and other regions in North America.