Action-Packed Two Weeks On Tap At Harrah's Louisiana Downs
Going Nobel posted the fastest time in the Grade 3 Harrah's Entertainment Futurity trials last weekend at Louisiana Downs.

© Hodges Photography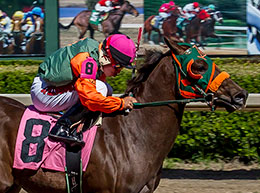 BOSSIER CITY, LA-MARCH 7, 2018--
The 2018 Quarter Horse Meet at Harrah's Louisiana Downs will wrap on Wednesday, March 21.
While there will be no "March Madness", the next two weeks will be filled with major racing events, the addition of Wednesday racing on March 14 and 21, and the presentation of the leading jockey, trainer and owner awards on the final day of the racing season.
Finalists Set for Three Racing Championships
Three stakes will be contested on Saturday, March 17. Quick to Flirt set the fastest qualifying time from 14 trials run on February 24 for the $310,466 Mardi Gras Futurity (RG2). Owned by Triple C Racing Stables LLC, Quick to Flirt won the third trial in a time of :15.587 under jockey Randy Edison. That clocking held for the remainder of the 300-yard heats.
The colt, sired by Quick To Flare Up, was bred by Belinda Disotell and is trained by Jesus Garrido. He and Ricardo Castillo, owner of Triple C Racing Stables, combined forces to qualify Jrs Natural Runaway to last year's Mardi Gras Futurity. He was denied by longshot Blue Eyed Fance,, but Castillo hopes for a better outcome this year with Quick to Flirt.
"Maybe this year with be our time," he said. "We have a great horse, but I told Jesus that we don't always have control. I am proud of the horse and will be happy whether we win or lose."
This is a record purse for the first futurity of the year with the connections of the winning juvenile earning $139,709.
CLICK HERE to see the complete list of the accredited Louisiana-breds that will compete in the 2018 Mardi Gras Futurity.
The Cazador, owned by Rayne Knight and trained by her husband, Michael Zingelmann was impressive on February 25 in trials for the $87,506 Mardi Gras Derby. The 3-year-old sped to victory in his heat, covering 400 yards in :19.922 under John Hamilton.
CLICK HERE to see a complete list of the finalists to the $87,506 Mardi Gras Derby.
The third features of the Saturday, March 17th card will be the running of the $15,000 Streakin La Jolla. The draw for card will take place this Saturday.
* * * * * * * * * * *
The $238,090 Harrah's Entertainment Futurity (G3) (see related story) will close out the Meet on March 21.
The ten finalists will return on Wednesday, March 21 when the winner of the 300-yard championship will be awarded a check for $107,140.
Louisiana Downs Trainer, Jockey and Owner Standings
Carlos Saldivar tops his fellow conditioners with 18 wins. Lanny Keith is second with 17 wins and Vann Haywood has saddled 16 winners, just one more than Josue Huitron.
Everardo Rodriguez has been impressive since the meet began in January and is the leader in the jockey standings with 34 wins. David Alvarez is second with 23 trips to the winner's circle; Damian Martinez is in third place with 22 wins and Antonio Alberto follows with 20 victories.
Joe Davis tops the leaderboard in the owner standings with seven wins. Jose O. Baron and Joseph Landreneau are tied for second with six victories and Two The Max Investments LLC and Geral Dewitt are tied for third place with five wins so far in the 2018 Quarter Horse meet.
Louisiana Quarter Horse Breeders Association (LQHBA) 2017 Champions Announced
Horses and individuals prominent at Harrah's Louisiana Downs have been crowned as 2017 LQHBA Champions and will be honored at the annual awards banquet on March 24.
Stakes winners Scoopies Leaving You; 2017 Mardi Gras Futurity finalist Jrs Natural Runaway; 2017 Mardi Gras Derby finalist La Mos Corona; Magnolia Stakes champion Im Mighty Fast and multiple winner Sweet Bru are among the equine winners in various categories.
Damian Martinez, who began his year as leading rider at Louisiana Downs, will be honored as 2017 champion jockey. For a complete list of the 2017 LQHBA Champions, CLICK HERE.
* * * * * * * * * * * * * * * * * *
About Harrah's Louisiana Downs
Located near Shreveport in Bossier City, Louisiana, Louisiana Downs opened in 1974 and was purchased by Caesars Entertainment in December, 2002. With annual Thoroughbred and Quarter Horse racing seasons, the track is committed to presenting the highest quality racing programs paired with its 150,000-square foot entertainment complex offering casino gambling, dining and plasma screen televisions for sports and simulcast racing.