Fair Grounds Race Course Quarter Horse Season Commences On Friday, August 16
The ten-day meet concludes on Saturday, September 7 with the final of the LQHBA Sale Futurity (RG1) for accredited Louisiana-Breds.

© Fair Grounds Race Course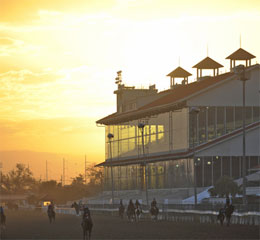 ALEXANDRIA, LA—APRIL 18, 2019—
Fair Grounds Race Course in New Orleans, will run a 10-day Quarter Horse meet, beginning on Friday August 16 through Saturday September 7, 2019. The nation's third-oldest racetrack has a rich history of crowning both Thoroughbred and Quarter Horse champions
Live racing will be contested on August 16, 17, 22, 23, 24, 29, 30, 31 as well as September 6 and 7. Two key dates are:
Saturday, August 17 — Trials for the LQHBA Sale Futurity (RG1)
Saturday, September 7 — The final of the LQHBA Sale Futurity (RG1)
The LQHBA Sale Futurity had its first running in 1984 with a $87,970 purse. All yearlings who pass through the ring of the annual LQHBA Yearling Sale are eligible to run in trials for this Futurity in the following year.
Due to the continued growth of the LQHBA Yearling Sale, last year's purse of $434,538 was the highest in the history of the race and the connections of 2018 champion, Amending the Bar received a check in the amount of $195,542. Sired by top-ranked first-crop sire, Five Bar Cartel, who stands in Louisiana, Amending the Bar was a finalist for AQHA Champion 2-year-old filly honors.
"We look forward to the upcoming live racing season at Fair Grounds Race Course," said Bruce Salard, executive director of the LQHBA "It is a very important stop on the Louisiana Quarter Horse circuit and an excellent showcase for accredited Louisiana-breds who compete throughout the meet and in the LQHBA Sale Futurity (RG1)."
For more information on the Louisiana Quarter Horse Breeders Association, visit their website at LQHBA.com or contact them at (318) 487-9506.