Funeral Services Set Monday For Larry J. Comeaux
Funeral services will be held Monday at the Evangeline Memorial Gardens Chapel in Carencro for Larry J. Comeaux.

© Courtesy Melancon Funeral Home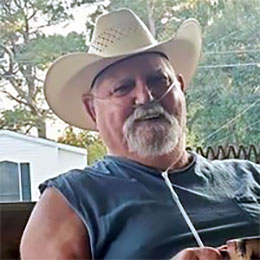 CARENCRO, LA—JANUARY 9, 2022—
Funeral services will be held Monday, January 10, 2022 at a 3:00 p.m. Liturgy of the Word in Evangeline Memorial Gardens Chapel in Carencro for Larry J. Comeaux, age 72, who passed away Friday, January 7, 2022 at his residence in Carencro.
Interment will be in Evangeline Memorial Gardens in Carencro.
Mr. Comeaux was a native of Cankton and a resident of Carencro having been a parishioner of St. John Berchman Roman Catholic Church. He was employed as a truck driver for fifteen years. A veteran of the military, Mr. Comeaux proudly served his country in the United States Army.
Larry was an avid outdoorsman who enjoyed hunting, fishing, working the horse sales, watching sports and collecting, trading, and refurbishing guns. Larry was known to his family as being "extra" all of the time. He had an infectious personality you could not help but love and a smile to match.
Survivors include one daughter, Sara Comeaux (Brian Demet) of Carencro; one granddaughter, Sidney Demet of Carencro; one brother, Francis Comeaux (Nancy) of Carencro; and one sister, Linda Prejean of Lewisburg.
He was preceded in death by his wife, Gail Comeaux; and his parents, Emick Comeaux and the former Claudia Credeur.
A rosary will be prayed at 1:00 p.m. Monday in the funeral home.
The family requests that visiting hours be observed from 11:00 a.m. Monday until service time on Monday.
The family would like to extend their deepest appreciation to his Goddaughter, Angel Latiolais Chamberlain and the doctors and staff of Hospice of Acadiana, especially his nurse, Kristina Moorman.
Melancon Funeral Home, Evangeline Memorial Gardens Chapel, 4117 N. University Ave., Carencro, (337) 896-3232, is in charge of arrangements.