Payment Reminders for Louisiana Stakes Due January 1
Payments are due Monday, January 1st to remain eligible for the 2017 Mardi Gras Derby(RG2) and the 2017 Harrah's Entertainment Futurity(G3).

© Coady Photography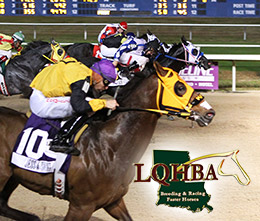 ALEXANDRIA, LA—DECEMBER 22, 2016—
The LQHBA office is reminding horsemen and women that payments are due Monday, January 1st, for the 2017 Mardi Gras Derby(RG2) and the 2017 Harrah's Entertainment Futurity(G3).
A January 1st sustaining payment of $300 is due to remain eligible for the Mardi Gras Derby(RG2). The derby trials will be contested February 28th and finals are set for March 18th.
A $500 sustaining payment for the Grade 3 Harrah's Entertainment Futurity is due January 1st. Trails will be contested on March 4th and final will run back March 22nd.
For additional information contact the LQHBA office at 318.487.9506 or visit the association website at lqhba.com.