News
- Breeding
August 23, 2017
---
Archive Breeding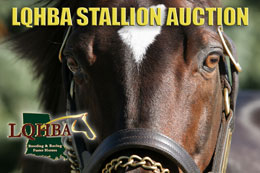 ALEXANDRIA, LA—JANUARY 24, 2017—
Louisiana Quarter Horse Breeders' Association' annual Stallion Service Auction will close at 2:00 p.m. (CST) Wednesday (January 25) (CST). Services are available on more than 50 of the industry's top stallions.
''Bids will close at 2 p.m. sharp,'' LQHBA Executive Director Tony Patterson said.
Breeders wanting to review the list of stallion services being offered or to place bid can CLICK HERE.
All minimum bids include farm/chute fees (if any). The price bid is the TOTAL price breeders will pay if you are the winning bidder (unless oth


Read More ...
---