LQHBA Sale Yearlings Could Pay First Dividends During Sale
Two 2022 LQHBA Sale Yearlings will get all expense paid "Trips To The Trials" in 2023.

© LQHBA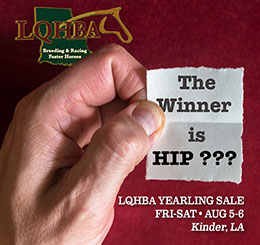 KINDER, LA—AUGUST 1, 2022–Two lucky yearlings will pay dividends on the day they sale at the upcoming 46th LQHBA Yearling Sale on Friday and Saturday, August 5-6, in Kinder, Louisiana this week.
LQHBA will award a "Lucky Yearling" a "Trip To The Trials" at the end of each sale day.
Immediately following the hammer drop on the last yearling sold each day a drawing will be held and one yearling will win an award for its new owner.
Hip #'s from that the current day's sale will be drawn at the auctioneer's stand and the purchaser who signed the ticket will have a maximum of five minutes to come to the auctioneer stand and claim their prize. If they fail to claim their prize in the allotted time, another hip # will be drawn.
The Day 1 winning yearling will be awarded the nomination, payments and trial entry to the $500,000-est. LQHBA Yearling Sale Futurity(RG1) to be run 2023. The Day 2 winning yearling will be awarded all remaining payments and trial entry payment to the 2023 Louisiana Million Futurity(RG1).
The award must be used on the hip # of the drawn yearling and is non-transferable to another horse.
For additional information on the upcoming LQHBA Yearling Sale visit the association website at lqhba.com/sales.