Louisiana Downs Cancels Sat. (Feb 20) Through Tues. (Feb 23) Racing Programs Due To Freezing Weather
Live Quarter Horse racing to resume on Saturday, February 27.

© Hodges Photography / Ann Switalski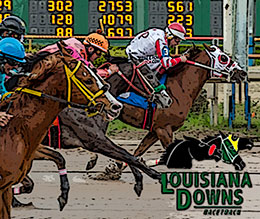 BOSSIER CITY, LA—FEBRUARY 19, 2021—
The unrelenting winter storm that has impacted Louisiana over the last two weeks is forcing additional live racing cancelations at Louisiana Downs.
Due to the continued sub-freezing temperatures in the Shreveport-Bossier City area, Louisiana Downs has canceled live racing on Saturday, February 20, Sunday, February 21, Monday, February 22 and Tuesday, February 23.
Entries will be taken for the Saturday, February 27 card tomorrow (February 20).
"This has been a tremendously challenging time for our racing program, and we know how greatly it has impacted our horsemen," said David Heitzmann, Director of Racing. " Safety for our horses and jockeys is the most important goal. Be assured that track superintendent Billy McKeever and his crew are working tirelessly to ensure the safety of our racing surface."
The 2021 Quarter Horse live racing season began on Saturday, January 23. Due to extremely cold weather, which impacted both the facility and travel to the Shreveport area, racing was also canceled for February 13- 16.
In addition, the schooling races on February 12 for 2-year-olds paid into the Harrah's Futurity, were canceled as well. Updates on a possible rescheduled date for the schooling races and added races on overnight racing will be forthcoming.
About Louisiana Downs
Located near Shreveport in Bossier City, Louisiana, Louisiana Downs opened in 1974 and was purchased by Caesars Entertainment in December 2002. With annual Thoroughbred and Quarter Horse racing seasons, the track is committed to presenting the highest quality racing programs paired with its 150,000 square foot entertainment complex offering casino gambling, dining and plasma screen televisions for sports and simulcast racing.