Delta Releases Fairgrounds Quarter Horse Stakes Schedule
The Fair Grounds Quarter Horse Meet at Delta Downs will Thursday, July 28 in Vinton, Louisiana.

© Coady Photography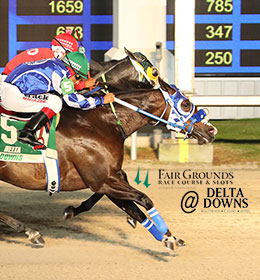 VINTON, LA–JULY 26, 2022–Delta Downs, who will host a 15-day 2022 Fairgrounds Quarter Horse Meet starting Thursday, July 28th, released the stakes schedule for the meet.
The 15 day meet will run through September 3rd and will be dark the week of August 1st to accommodate the 2022 LQHBA Yearling Sale on August 5-6 in Kinder, Louisiana.
Closing night will feature finals for the $500,000-est. LQHBA Sale Futurity (RG1) on Saturday, September 03.
Trials for the LQHBA Sale Futurity will be conducted over two days, Friday, August 12th and Saturday, August 13th.
Two NEW stakes for 2022 will join the Fair Grounds Quarter Horse Stakes Schedule, they are:
• $30,000-G. LQHBA Sales Juvenile for 2YO LA-Bred Colts & Geldings
• $30,000-G. LQHBA Sales Debutante for 2YO LA-Bred Fillies
See Nomination Blank for Restrictions for these two races.For the complete Fair Grounds QH Stakes Schedule CLICK HERE.

* * * * * * * * * * * * * * * * * * * * *

FAIRGROUNDS @ DELTA QH STAKES SCHDULE
SATURDAY, AUGUST 13
ESPLANADE, $25,000-G.
3YO&UP, 350 YDS
FRIDAY, SEPTEMBER 2
DE SAIX, $25,000-G.
2YO, 330 YDS
SATURDAY, SEPTEMBER 3
LQHBA SALES FUTURITY (RG1), $500,000-E.
2YO (LA), 350 YDS
AUDUBON, $40,000 G.
3YO F.(LA), 330 YDS.
LQHBA SALES FUTURITY COLTS & GELDINGS STAKES,*
$30,000-G. 2YO C&G (LA), 350 YDS
LQHBA SALES FUTURITY FILLY STAKES,*
$30,000-G. 2YO(LA) F, 350 YDS
FAUBORG ST JOHN, $30,000 G.
3YO&UP (LA), 870 YDS
MID CITY, $40,000 G
3YO&UP (LA), 400 YDS.

The five fastest non-qualifying times from each day of the LQHBA Sales Futurity time trials (Negative Hair Test Required).
For additional information contact LQHBA at (318) 487-9506 pr visit the association website at lqhba.com
* * * * * * * * * * * * * * * * * * * * *
Delta Downs will now conduct 15 more days of American Quarter Horse racing from July 28 through September 3. There will be live racing each Thursday through Saturday beginning at 6:15 pm, with the exception of August 4 through 6, due to the Louisiana Quarter Horse Association Yearling Sale. The extra dates were transferred from Fair Grounds Race Course in New Orleans.
About Delta Downs
Delta Downs Racetrack Casino and Hotel, a property of Boyd Gaming Corporation (NYSE:BYD), features exciting casino action, live horse racing and fun dining experiences. Delta Downs is located in Vinton, Louisiana, on Delta Downs Drive. From Lake Charles, take Exit 7 and from Texas, take Exit 4. For more information about the season, visit the track's website at www.deltadownsracing.com.