LACER Stallions Showcase Set November 17
LACER will hold a "Stallion Showcase" on Friday, November 17 at their facility near Opelousas, Louisiana.

© Courtesy LACER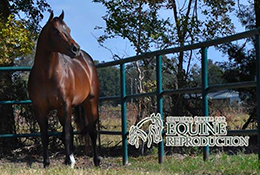 OPELOUSAS, LA—NOVEMBER 10, 2017—
Louisiana Center for Equine For Equine Reproduction (LACER) will host a "stallion showcase" next Friday Nov. 17). At noon, the Opelousas based nursery will serve a free "gumbo" lunch prior to the "stallion showcase" set for 12:30 p.m. (CDT).
LACERS 2018 Stallion Roster includes The Louisiana Cartel, Mr Piloto, Jess Cuervo, Fast Prize Dash, Make It Anywhere Inseperable, First Prize Doc and Court Vision.
Breeders that books an early bird contract to leading sire The Louisiana Cartel will have their name put into a drawing for a free breeding to the champion siring son of Corona Cartel.
The stallion show case will be held at Acadiana Equine Hosptial at Copper Crowne, 5124 Hwy 182, Opelousas, Louisiana 705070.
For additional information call 377-407-9555 or visit the website at laequine.com.
Horsemen and women who are planning to attend the Louisiana Million Futurity(RG1) trials Friday night at nearby Evangeline Downs are invited to spend the afternoon at LACERS.