Louisiana Races Impact Both AQHA Racing National Polls
Delta Downs closing card on Saturday impacted the AQHA Racing National Polls this week.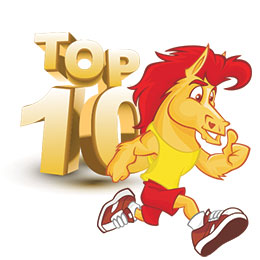 AMERICAN QUARTER HORSE ASSOCIATION—JULY 12, 2017—
The closing night stakes for Louisiana-breds at Delta Downs on Saturday helped propel newcomers into both AQHA Racing National Polls.
In the 2-year-old poll, Rogelio Marquez Jr.'s Heza Fast Dash filly, Dashnunder Afullmoon, winner of the Lee Berwick Memorial Futurity (RG1) and undefeated in four starts this year, jumped up to No. 7 after previously being unranked with just a handful of votes. In the older-horse poll, another runner by Heza Fast Dash moved up as T M Ranch's Heza Louisiana Dash, who won the Louisiana Classic Stakes (RG2) for this third stakes win during the Delta meet, debuted at No. 10.
Several ranked horses were in action over the weekend at Ruidoso Downs in trials for the Rainbow Futurity (G1) and Rainbow Derby (G1), but there was little change in the voting for those horses. Eagle Jazz set the fastest qualifying time on the first day of trials for the Rainbow Futurity and maintained his No. 1 ranking, while Uptown Dynasty posted the fastest time on the second day and moved up slightly to tie for the No. 3 spot after being ranked No. 4 last week. The two will meet in the July 23 final in a rematch of last month's Ruidoso Futurity (G1) in which they hit the wire together to win in a dead heat.
Among the older horses, No. 7-ranked Hold Air Hostage set the fastest time in the trials for the Rainbow Derby.
NATIONAL RANKINGS, 3-YEAR-OLDS AND OLDER
ZOOMIN EFFORTLESSLY (94)
JESSIES FIRST DOWN (80)
BODACIOUS EAGLE (79)
BH LISAS BOY (76)
TOUGH TO BEE (57)
MAGICAL JESS (49)
HOLD AIR HOSTAGE (37)
RUNNING DRAGON (18)
JESS GOOD REASON (16)
HEZA LOUISIANA DASH (10)
TIME FOR WINE (7), APOLLITICAL SCOUT (6), HIGH PLAINS PERRY (5), IMPERIAL EAGLE (3), POLITICALLY CORRUPT (3), SKY BO DASH (3), IMAQTPIE (2), ZOOMIN FOR SPUDS (2), MAGIC BLACK JACK (1), POUTN ON THE WAGON (1), SO RAPIDO (1).
NATIONAL RANKINGS, 2-YEAR-OLDS
1. EAGLE JAZZ (98)
2. NYMERIA (84)
3. (tie) KVN CORONA (73)
3. (tie) UPTOWN DYNASTY (73)
5. THIS IS AN EAGLE (52)
6. LA VENCEDORA (39)
7. DASHNUNDER AFULLMOON (33)
8. FIRE AND SASS (24)
9. IMA CHINA RUSH (23)
10. SUENOS DINEROS (17)
SIXES FLASH (14), TOGETHER TO THE END (11), PYC FUN N FANCY (4), BLUE EYED FANCE (2), DADDYS BLUSHING (2), WAGONFULLOFDIVIDENDS (1).
AQHA News and information is a service of the American Quarter Horse Association. For more news and information, follow @AQHARacing on Twitter, watch the AQHA Racing Newscast and visit www.aqharacing.com.