Amanda Buchanan-Hadley Makes Her Training Debut at Louisiana Downs
Amanda Buchanan-Hadley with her daughter Brix.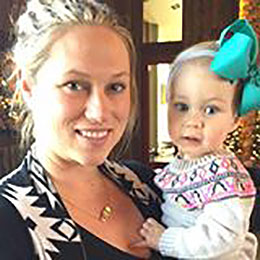 By Martha Claussen
BOSSIER CITY, LA—JANUARY 8, 2015—Amanda Buchanan-Hadley will make her official training debut on Saturday, January 9 at Louisiana Downs.
She is the daughter of Iris and John Buchanan, who has been a prominent Quarter Horse conditioner for over three decades. While he never had a massive stable, John had his share of graded stakes winners and enjoyed a victory in the All American Futurity in 1997 with Elans Special. He turns 65 this month, and last August, decided he was ready to retire.
Amanda graduated from the University of North Texas, earning her B.A. in general studies. Her areas of interest included business, art, dance and health, but her passion remained with the family's horses. She assisted her father at Sam Houston Race Park and Remington Park, and was very hands on with 2014 Champion Distance Horse, Wahoo.
The Buchanans have several homebreds and still have strong bonds with owners Sylvia Shaw Pittman and Marcy Bentley. When the opportunity came to go on her own at Louisiana Downs, Amanda was game. She was given 14 stalls at the Bossier City racetrack, and will saddle three on opening day. Levi Lynn Muntz will serve as her right hand, with John and Iris making trips from their home in Weatherford, Texas.
"This will be fun for me," said Amanda. "It's a family affair and we have some really nice horses."
Of course, she is in very close contact with her dad, who according to Amanda, is both an excellent "horse hauler" and an exceptional advisor. He and Iris are also first-class babysitters for their 14-month granddaughter, Brix.
Amanda is married to jockey Russel Hadley, and is hopeful that he will ride for her at some point this meet. For opening weekend, she has tabbed Raul Ramirez, Jr. and Donell Blake.
"Russ has such a good thing with 'Bubba' Willis and will be breaking babies in Oklahoma," explained Amanda. "But he will get down here quite a bit."