LQHBA Board Meeting, Open Yearling Sale Forum Set October 5th
LQHBA will hold a board meeting and yearling sale open forum on Wednesday, October 5.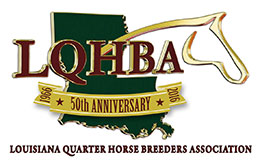 ALEXANDRIA, LA—SEPTEMBER 27, 2016—
The Louisiana Quarter Horse Breeders' Association (LQHBA) will conduct their regularly scheduled board meeting on Wednesday, October 5th.
Set for 10:30 a.m., the group will meet in the "pre-function room" (Event Center) at Evangeline Downs in Opelousas. The LQHBA office in Alexandria will be closed that day.
Following the conclusion of the board meeting (approximately 3 pm) the association will hold an "open forum" to discuss the future of the LQHBA yearling sale. Everyone is invited to attend.
"We really hope to have quite a few LQHBA Members present for the yearling sale discussion," LQHBA Executive Director Tony Patterson said. "Their input would be greatly appreciated."