Mardi Gras Futurity Scholarships To Be Awarded
College bound Louisiana High School graduates and 2016 Louisiana High School Seniors who attend the Mardi Gras Futurity in Bossier City, March 12, will have an opportunity to win one-of-three free scholarships.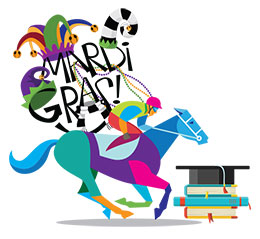 ALEXANDRIA, LA—FEBRUARY 12, 2016—
Robicheaux Ranch, Inc.
, TRACK Magazine and LQHBA announced today they will award three scholarships during the Mardi Gras Futurity finals, March 12 at Louisiana Downs.
A $3,500 Scholarship will be awarded for the best student essay (400 word minimum) about one or more of the 2016 Mardi Gras Futurity qualifiers and their connections (breeder, owner, trainer and jockey). Potential essayists are encouraged to attend the Mardi Gras Futurity trials at Harrah's Louisiana Downs in Bossier City.
All essays must be emailed to mhatwig@lqhba.com at the LQHBA office no later than noon on Tuesday, March 1st. Entrants will receive a reply email confirming receipt of their essay within 24 hours and the winning essay will be published.
The essay content winner must attend the Mardi Gras Futurity on Saturday, March 12 at Louisiana Downs.
Two additional $1,000 scholarships will be awarded through a "live" drawing in the Louisiana Downs winners' circle immediately following the third race on Saturday, March 12.
Applicants must register in person between 11:30 and 1:30 p.m. (CST) on race day (March 12, 2016). A registration table will be located inside the main entrance of the racetrack next to the program stand.
Participant/entrant must be a Louisiana High School Graduate or a student who is graduating from a Louisiana High School in 2016 and will attend a higher education institution in the calendar year of 2016. Scholarship is limited to the cost of tuition, books (electronic or printed) and required electronic study materials only.
The proceeds of the scholarship will be paid directly to the educational institution the recipient attends. Scholarships are subject to approval by the LQHBA board.
All scholarship recipients are required to participate in promotional photos receiving their scholarship award certificate and publication of any contest entry submissions.
For more information, contact the Louisiana Quarter Horse Breeders Association at 318-487-9506 or visit www.lqhba.com.