2015 Evangeline Downs Quarter Horse Report: Episode 2
Episode 2 of the Evangeline Downs Quarter Horse Report is now available.

© Coady Photography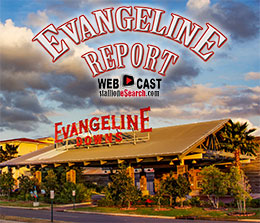 OPELOUSAS, LA—NOVEMBER 13, 2015—
Stallionesearch releases episode 2 of the
Evangeline Downs Quarter Horse Report
, highlighting the racing action of the 2015 Quarter Horse meet at the Evangeline Downs in Opelousas, Louisiana.
Episode 2 focuses on the recapping the Billy Montgomery Stakes(RG3).
On Episode 2, Stallionesearch.com also analyzes the top contenders for this weekend's Opelousas Stakes, which contains two of the top older horses in the state of Louisiana vying for the victory.
This week's Sire Spotlight goes to two sires Heza Fast Dash, and Jet Black Patriot.
CLICK HERE to watch Episode 2.
The 2015 Evangeline Downs Quarter Horse Report is sponsored by the Louisiana Quarter Horse Breeders' Association, the sire Tee Cos, Robicheaux Ranch, Inc., Delta Equine Center, and the Louisiana Center For Equine Reproduction.