Delta Downs – Update On Live Streaming Video, Upcoming Trials Available
RTN (Racetrack Television Network) will offer live streaming of Delta Downs racing.

© RTN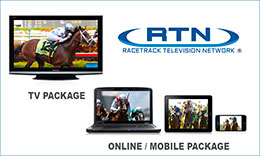 VINTON, LA—MAY 3, 2022—Effective Wednesday, May 4 the live stream of Delta Downs races will be offered on the web through RTN (Racetrack Television Network) www.rtn.tv.
The provider offers various packages to watch from home or on your computer/phone.
If you sign up for the service, you will be offered Delta Downs live stream for free through May 29 on RTN by using Promo Code DTTRYNOW.

Sixteen trials, over two-days, for the Lassie Futurity(RG2) are schduled Wednesday and Thursday, May 4 and 5; and sixteen trials, over two days, for the Laddie Futurity(RG2) are scheduled for Friday and Saturday, May 6 and 7.
* * * * * * * * * * * * * * * * * * * * *
Delta Downs Racetrack Casino and Hotel, a property of Boyd Gaming Corporation (NYSE:BYD), features exciting casino action, live horse racing and fun dining experiences. Delta Downs is located in Vinton, Louisiana, on Delta Downs Drive. From Lake Charles, take Exit 7 and from Texas, take Exit 4. For more information about the season, visit the track's website at www.deltadownsracing.com.