Oral Arguments Heard In Lubbock Wednesday On Opposition of Horseracing Integrity and Safety Act
Oral arguments were held Wednesday in a federal lawsuit challenging the Horseracing Integrity and Safety Act.

© iStock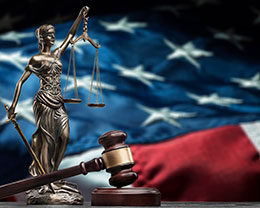 LUBBOCK, TX—FEBRUARY 17, 2022—
Oral arguments began Wednesday in the United States District Court for the Northern District of Texas for a federal case filed by the National Horsemen's Benevolent and Protective Association, joined by numerous state affiliates seeking to nullify the Horseracing Integrity and Safety Act (HISA).
The HBPA and its affiliates argued that the HISA, passed by Congress and signed into law in December 2020, violates the non-delegation doctrine of the U.S. Constitution in that it gives governmental authority to a private, unaccountable organization overseen by a federal agency with no expertise in horse racing.
According to the HBPA complaint filed in March 2021, the act authorizes HISA, to make federal laws and tax the industry to pay for its operations.
HBPA is opposed by HISA, the Federal Trade Commission and others on a variety of grounds.
In oral arguments Wednesday, Federal Judge James Wesley Hendrix was asked to rule the entire act is unconstitutional therefore enforcement should immediately cease.
Defendants in the case argued that the complaint, as amended, doesn't state a claim upon which relief can be granted and the case should be dismissed.
Judge Hendrix will sort out the opposing arguments and make a ruling, however regardless of the outcome an appeal to the United States Court of Appeals for the Fifth Circuit is expected.
Passage of the enabling legislation by congress transferred regulatory authority over the racing industry to HISA and the FTC last year. Nationwide enforcement of new uniform regulations was to be granted to a third party, with initial hopes of an agreement with the United States Anti-Doping Agency. However last December the USADA and HISA announced talks between the groups had broken down.
The State of Texas and its racing commission earlier this month asked to join in the lawsuit, hoping to argue that the creation of HISA violates the 10th Amendment to the U.S. Constitution, which reserves power to states not granted to the federal government. That same issue is currently under litigation in the Eastern District of Kentucky federal court.
After defendants objected to the late move by Texas, Judge Hendrix said he would only allow the intervention if attorneys for Texas did not participate in Wednesday's oral arguments to pursue the 10th Amendment argument until pending claims in other courts are resolved. He suggested Texas might better protect its interests if it intervenes in the Kentucky case instead. The State of Texas was given until Friday (Feb. 18) to give notice if it wants to proceed with intervention in Hendrix' court.
State affiliates joining the National HBPA in filing the HISA case include Arizona, Arkansas, Indiana, Illinois, Louisiana, Nebraska, Oklahoma, Oregon, Pennsylvania, Washington and West Virginia.
The American Quarter Horse Association and North American Association of Racetrack Veterinarians filed "friend of the court briefs" in support of the plaintiffs.