LQHBA To Award Scholarships at Evangeline Downs Saturday, October 30
LQHBA will award three scholarships totaling $6,000 during a live drawing Saturday, October 30th at Evangeline Downs in Opelousas.

© LQHBA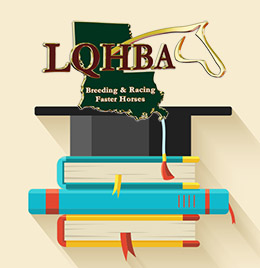 OPELOUSAS, LA—OCTOBER 20, 2021—
LQHBA announced today they will award three scholarships totaling $6,000 during a live drawing to be held Saturday, October 30th at Evangeline Downs in Opelousas.
Applicants must register in person beginning at 4:30 p.m. (CT) at Evangeline Downs on Saturday, October 30th. Registration will close promptly after the fourth race at the track. The LQHBA Scholarship registration table will be located at the elevator on the casino level.
The scholarship's will be drawn live in the winner's circle after the fifth race at Evangeline and participants must be present to win.
Scholarship participant/entrant must be a Louisiana High School graduate or student who is graduating from a Louisiana High School in 2022 and planning to attend a higher education institution. Louisiana residents enrolled in a Louisiana college or university are also eligible.
Scholarship is limited to the cost of tuition, books (electronic or printed) and required electronic study materials only. The proceeds of the scholarship will be paid directly to the educational institution the recipient attends.
Scholarships are subject to approval by the LQHBA board. All scholarship recipients are required to participate in promotional photos receiving their scholarship award certificate and publication of any contest entry submissions.
More information on scholarship eligibility can be found on the association website at lqhba.com.