Louisiana Quarter Horse Breeders Association Announces Scholarship Drawings July 16 At Delta Downs
Four scholarships to be awarded to Louisiana students on July 16.

© Coady Photography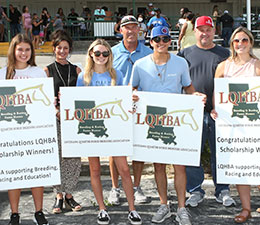 ALEXANDRIA, LA–JUNE 29, 2022–The Louisiana Quarter Horse Breeders Association (LQHBA) will award four $2,000 scholarships to further the education of Louisiana students on Saturday, July 16 at Delta Downs. The final night of the 2022 Quarter Horse racing season will feature several quality stakes, including the $744,302 Lee Berwick Futurity (RG1) and the $188,160 Delta Downs Louisiana Bred Derby (RG3).
The scholarship drawings will be awarded as part of the very special evening saluting accredited Louisiana-bred racehorses. Scholarship entrants must be a Louisiana High School graduate or Louisiana High School student graduating in 2023 planning to attend a higher education institution.
Those eligible may sign up at the LQHBA Scholarship Registration Table (located at the foot of the escalator on the casino level), beginning at 5:00 pm. Registration will close after the fourth race and scholarships will be drawn live in the winner's circle after race five by LQHBA board members and dignitaries. Students must be present to win. More information on the scholarship eligibility can be found on LQHBA.com.
While the primary goal of the LQHBA is to promote breeding and racing in the state, the association remains dedicated to furthering higher education for Louisiana youth. Since its inception in 2001, the LQHBA scholarship program has provided over $700,000 for Louisiana students to attend a higher education institution.
"Our association will continue to offer scholarship drawings at each of the Louisiana racetracks" said Bruce Salard, LQHBA executive director. "We want to support students statewide who wish to further their education at the university level. This will be an exciting evening saluting Louisiana-bred Quarter Horses. We look forward to welcoming students and their parents to Delta Downs on Saturday, July 16."
For more information on the Louisiana Quarter Horse Breeders Association, visit their website at LQHBA.com or contact them at (318) 487-9506.