LQHBA Elects New Board Members
LQHBA has elected four new board members for 2020.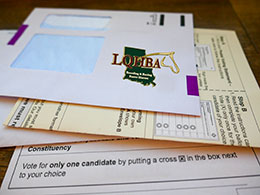 ALEXANDRIA, LA—APRIL 21, 2020—
Four new board members have been elected the Louisiana Quarter Horse Breeders' Association (LQHBA) for 2020.
Newly elected Board Members and their district are:
Jerome Ballard, South Central District
Jerome has been the farm manager at Hart Farms in Kaplan, Louisiana for 10 years. He grew-up in Church Point, Louisiana and became a horse racing enthusiast at an early age while spending time at local bush tracks. He has been breeding, racing and raising horses for more than 25 years and has worked as licensed trainer of both Quarter Horses and Thoroughbreds.
Karen Darling Falgoust, Central District
Karen is owner and operator of Darling Farms, LLC in Opelousas, Louisiana and the daughter of LQHBA Hall of Fame Inductee W.A. Darling. She is a graduate of the University of Louisiana and spent 20 years teaching. In 2006 she left teaching to spend more time with her father and learn the horse business.
Bobbi Randle, Southwest District
Randle of Vinton, Louisiana has been with Boyd Gaming at Delta Downs for the past 19 years. She and her husband Darrell reside on their farm near Delta Downs. They have one son, Dylan who is a Junior at McNeese State University. Besides having race horses they also raise train and sell barrel horses
Riley Blanchet, Southeast District
Over the course of 32 years of owning and racing Louisiana Quarter Horses and twenty years as a breeder, Riley has had the opportunity to work with the countless individuals in all areas of this industry, from all parts of the state and beyond. Riley has demonstrated leadership abilities through building his service-based carrier company, RJ's Transportation for thirty years. He is also currently the Mayor of the Village of Rosedale.
2020 LQHBA Board Officers are:

Ryan Robicheaux, President
Kirt Chaisson, 1st Vice President
Leigh Perry, 2nd Vice President
Dr. Larry Findley, Secretary/Treasurer.

For additional information visit the association's website at lqhba.com.