Evangeline Downs Live Quarter Horse Racing Pushed To October 1
The LSRC voted (10-0) to push the Evangeline Downs Quarter Horse live opening to October 1.

© Coady Photography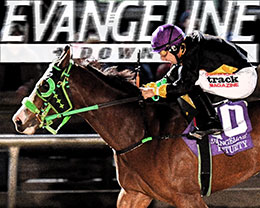 ALEXANDRIA, LA—SEPTEMBER 9, 2020—
The Louisiana State Racing Commission (LSRC) in a 10-0 vote on Wednesday approved a move to push the Fair Grounds at EVD start date back to October 1.
Quarter Horses will run live at Evangeline Downs for 39 days from October 1 thru December 19.
The first 10 days (Oct. 1 thru Oct 22) will be the "Fair Grounds @ Evangeline Downs" meet. Immediately following the "Evangeline Downs" 29 day meet will begin October 23 and continue through December 19.
Trails for the $450,000-est. LQHBA Yearling Sale Futurity(RG1) will be contested Thursday, October 1st and the final will run back Thursday, October 22nd.
Trials for the Evangeline Downs Futurity are set for Friday, November 13th and final will run back Saturday, December 12th.
Trials for the LQHBA Louisiana Million Futurity(RG1) will be run Friday, November 20th and the final will be contested Saturday, December 19th.
For additional information check the association's website at lqhba.com.