Louisiana Veterinarian Charged With Plot To Drug Horses Before Races
Dermorphin is naturally secreted by tree frogs native to South America.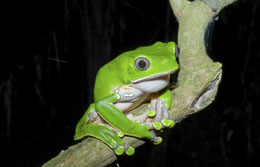 BATON ROUGE, LA—FEBRUARY 10, 2017—
According to an article published on the Fox News website an indictment charging a Louisiana veterinarian with engaging in a scheme to influence the outcome of horse races at Louisiana racetracks was returned earlier this week.
The federal indictment accuses veterinarian, Kyle James Hebert, of providing trainers with syringes of dermorphin to inject the painkiller in at least four horses that competed at Louisiana racetracks. The indictment returned Thursday by a grand jury in the Western District of Louisiana says Hebert told trainers that the mislabeled drug would make the horses "focus" and run faster.
Dermorphin, an opioid roughly 30 times more potent than morphine, has become an epidemic at racetracks in recent years. The U.S. Food and Drug Administration hasn't approved any drug containing dermorphin for use in humans or animals.
Hebert's company, Southern Equine Sports Medicine, operated veterinary clinics in Lake Charles and Sunset. The indictment charges him and an Omaha, Nebraska-based company, Kohll's Pharmacy & Healthcare Inc., with conspiracy.
CLICK HERE for the complete story.