Fair Grounds Race Course Quarter Horse Dates, Purse Funds Transferred To Evangeline Downs For 2020
2019 LQHBA Sale Futurity(RG1) winner Sir Runway Cash.

© Hodges Photography / Amanda Hodges Weir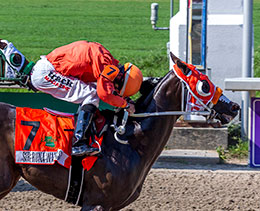 ALEXANDRIA, LA—JUNE 18, 2020
The Louisiana State Racing Commission (LSRC) approved the transfer of the 2020 Fair Grounds Racing Course Quarter Horse dates to Evangeline Downs. The LQHBA and LAHBPA worked to present a strategic quarter horse racing calendar for the remainder of 2020 that maximizes the available slot revenue.
The Fairgrounds Quarter Horse meet will be conducted at Evangeline Downs. The meet will begin with the LQHBA Sale Futurity Trials (RG1) on September 17th and conclude with Futurity FINALS run October 08th.
Fairgrounds Quarter Horse Racing at Evangeline Downs. Live racing will be contested:
September 17, 18, 19, 24, 25, 26
October 1, 2, 3, 8
LSRC approved Evangeline Downs quarter horse meet to conduct live racing beginning October 09, 2020 and conclude on December 19th, 2020. The EVD meet will conclude with the running of the 2020 LQHBA LOUISIANA MILLION.
October 9, 10, 15, 16, 17, 22, 23, 24, 29, 30, 31
November 5, 6, 7, 12, 13, 14, 19, 20, 21
December 3, 4, 5, 10, 11, 12, 17, 18, 19
Evangeline Downs available purse funds were impacted due COVID 19 restrictions which reduced slot revenue. As a result, both breeds are running reduced race dates in year 2020 to maximize available purse funds.
"The LQHBA Board of Directors goal to run all major Louisiana Bred Futurity and Derby races is achieved," said Bruce Salard, Executive Director of the LQHBA. "Our purse structure is competitive with this race calendar given the impact of COVID 19 on slot revenue. We look forward to a successful LQHBA Yearling Sale for Louisiana Breeders."
Year 2021 race days will return with: Louisiana Downs 46 days, Delta Downs 46 days, Fairgrounds 10 days and Evangeline Downs 46 days.
For more information on the Louisiana Quarter Horse Breeders Association, visit their website at LQHBA.com or contact them at (318) 487-9506.
Photo of 2019 LQHBA Sale Futurity winner Sir Runaway Cash: Hodges Photography