Berwick, Darling, Go Vicki Meyers, Streakin La Jolla, Heisajoy Going To LQHBA Hall of Fame
Lee Berwick, a highly-regarded advocate for Louisiana Quarter Horse racing, will be among the LQHBA Hall of Fame Class honored during an awards ceremony April 8. .

Courtesy Speedhorse Magazine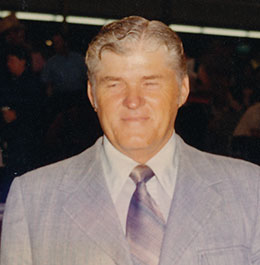 ALEXANDRIA, LA—FEBRUARY 3, 2017—
Prominent Louisiana Quarter Horse breeders and owners, Lee Berwick and W.A. Darling will be inducted into the Louisiana Quarter Horse Breeders Association (LQHBA) Hall of Fame. Go Vicki Meyers, Streakin La Jolla and Heisajoy have also been announced as members of the 2017 class, the second year that LQHBA has named its recipients. The ceremony, in conjunction with the annual LQHBA Membership Meeting & Awards Banquet, will take place on Saturday, April 8 at the Evangeline Downs Events Center in Opelousas, Louisiana.
The Louisiana Quarter Horse Breeders Association selected the 2017 inductees based on their noteworthy impact on the Louisiana Quarter Horse industry.
Lee Berwick
Lee Berwick was a highly-regarded advocate for Louisiana Quarter Horse racing.
He grew up as a sharecropper's son and began in the cattle business. Fortunately for the state's Quarter Horse industry, Berwick quickly developed an interest and passion in Quarter Horses.
Berwick purchased 23 Quarter Horses in a 24-month span in the early 1950s on his farm in St. Joseph, Louisiana. His mare band included daughters of Rey Del Rancho, Peppy, Macanudo and Wimpy P-1.  His stallion was Wimpy O'Nesa, by Wimpy P-1.  In the mid-1960s, Berwick started breeding for speed and purchased Little Duce.  He also owned half interest in Jet Straw, by Jackstraw (TB) and out of Miss 89'er. Berwick campaigned Eight Edition, who won both the Laddie and LQHBA Breeders Futurity in 1980.
His enthusiasm for racing led to the development of Delta Downs racetrack in Vinton, Louisiana. The track opened in September, 1973, and Berwick was the president and a major stock holder for several years. While it is now under the ownership of Boyd Gaming, each year, he is honored with the running of the Lee Berwick Memorial Futurity (RG1); the purse last year was a record $690,295.
Berwick became an AQHA Director in 1960, and initiated the AQHA Supreme Champion award.  Elected as president in 1969, Berwick was successful in the creation of the American Junior Quarter Horse Association.
During his term, Berwick helped usher AQHA into the modern era.  He oversaw the reorganization of AQHA's various divisions, began negotiations for a computer system to improve record keeping and customer service, and saw the implementation of a seminar program for approving show judges.
Berwick was inducted into the American Quarter Horse Hall of Fame in 1994.  He died in 2001 at the age of 79 and is survived by his wife, Betty.
W. A. Darling
William Albert Darling, born in 1927, was a native of Pleasanton, Texas. After serving his country in the military, he moved to Opelousas, Louisiana in 1953 where he became a life-long resident of Louisiana.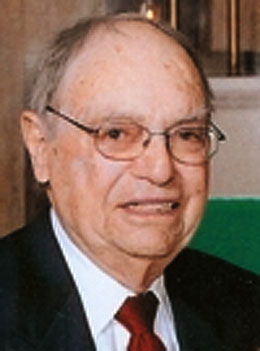 W.A. Darling is ranked 30th on the annual AQHA list of all-time leading Quarter Horse breeders.
When he retired from the oil field business, he became involved full-time in his true passion of breeding and raising racehorses. He also devoted his time and energy to developing the growth of the quarter horse industry in the state of Louisiana. An active Louisiana Quarter Horse Breeders Association (LQHBA) board member, Darling served as president in 1984 and 1990.
Darling is one of Louisiana's leading breeders with 333 performing foals, including 197 winners who have earned a total of $5,412,072. He bred 21 stakes winners, nine of which earned six figures in their careers. His leading money earner was Dashing Obsession, who won 10 of her 23 starts with seven stakes wins, including the 2002 Mardi Gras Derby. She has produced 10 foals led by 2013 Lassie Futurity champion, Dashing Jet Rio. Darling's top stallion was Hemp Meyers, who sired 273 performing foals that earned $2,949,349. One of his most successful sons was Horseplayers Hemp, who earned $200,387.
Darling's dedication to racing and breeding has been recognized in both Louisiana Quarter Horse racing and nationally by the American Quarter Horse Association (AQHA). He was awarded the 20-year and 30-year Cumulative Breeder awards, from the AQHA as well as the East High Point Breeder Award in 2000. As of the conclusion of 2016, Darling was ranked 30th on the annual AQHA list of all-time leading Quarter Horse breeders.
W.A. Darling died at the age of 90 in 2011. He was married to Carolyn Christine Darling and had three children, Bruce Kelley Darling, Susan Darling Urban, and Karen Darling Falgoust. Susan now owns the 5.26-acre property where her father got his start in the racing and breeding business. Karen is carrying on his legacy as the owner of Darling Farms, LLC.
Streakin La Jolla
Streakin La Jolla had an enduring legacy in the Quarter Horse industry, both as a racing champion and then as a stallion.
Bred by the Frisco, Texas-based partnership of B. F. Phillips Jr. and Delbert Smith, Streakin La Jolla was by Streakin Six and was foaled in 1985 out of the Raise Your Glass (TB) mare Bottom's Up. Trained by Charles and Mike Lyles, he was undefeated in eight career races, wrapping his career on the racetrack with a victory in the consolation for the All American Derby (G1). The gifted runner retired with eight wins from eight starts and earnings of $56,227.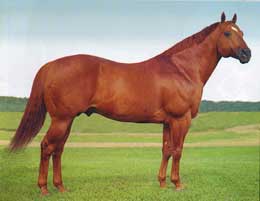 AQHA Hall-of-Famer Streakin La Jolla entered stud in Louisiana in 1989.
Streakin La Jolla entered stud in Louisiana in 1989, first under the management of Drs. Rick and Brad Boutte at their Pleasure Time Farm. He then spent several more years under the care of Jude Robicheaux, first at Robicheaux's Shoestring Stud Farm, and then at L-J Farms in Alexandria, Louisiana.
As he was gaining in national prominence, he was purchased in the summer of 1999 by Robert and Karen Nunnally of Georgia. The Nunnallys made the decision to move Streakin La Jolla to Granada Farms at Wheelock, Texas, for the 2000 breeding season. Under the care of Jimmy Eller and the staff of Granada Farms, he bred several books of more than 200 mares each.
The racing industry's eleventh-all-time-leading stallion has sired the earners of more than $25 million, including champion and leading sire Mr Jess Perry and world champion Streakin Sin Tacha, in addition to 81 other stakes winners. His lasting contributions to the Quarter Horse industry lives on. His offspring are still winning and demand for his daughters as broodmares remains high. Streakin La Jolla's daughters have produced the earners of more than $21.2 million, making him the ninth-all-time-leading sire of broodmares.
Streakin La Jolla was retired from stud duty shortly before his untimely death on June 18, 2009. He was inducted into the American Quarter Horse Hall of Fame in 2012.
Heisajoy
Claude and Bessie Lea Jeane were inducted into the inaugural LQHBA Hall of Fame Class last year and LQHBA is proud to honor one of their prized racing champions into the Class of 2017.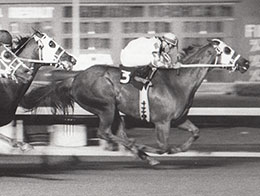 Bessie Lea Jeane's Heisajoy winning the Grade 3 Double Bid Handicap at Los Alamitos Race Course on June 22, 1990.
© Martinez / Los Alamitos Race Course
Heisajoy a son of Gusty Hempen from the Heisanative (TB) mare Sheisajoy was foaled on March 1, 1985. Bred by Bessie and trained by her husband, Heisajoy made his racing debut at Delta Downs on July 3, 1987. He was winless in his three starts as a 2-year-old, but broke his maiden in his first race in his 3-year-old campaign. His first stakes victory was in the 1988 Delta Downs Louisiana Breeders Derby on August 7. The sorrel gelding followed that with significant wins in the Grade 2, Pomona Handicap at Fairplex Park, and several graded stakes at Los Alamitos including the Grade 3, HQHRA Inaugural Handicap in 1989; the Grade 3, Double Bid Handicap and Grade 2, Chicado V Handicap in 1990. Heisajoy also ran fifth to Dash for Speed in the Grade 1, $250,000 Champion of Champions on December 15, 1990.
Throughout his career, he was ridden by a number of highly regarded jockeys including James Lackey, Danny Cardoza and Alvin "Bubba" Brossette.
Heisajoy returned to Louisiana, competing in the $100,000 Louisiana Champions Day Classic at Fair Grounds on December 4, 1992. He finished his career at Delta Downs, running second in an allowance on April 12, 1992. The Louisiana-bred veteran compiled a (28) 15-4-2 record while winning eight stakes races and earning nearly $249,978.  He passed away in 2010 and was honored as "Superior Race Horse" by the American Quarter Horse Association.
Go Vicki Meyers
Go Vicki Meyers was born on January 1, 1965 at Bob Moore Horse Farm in Kansas. The daughter of Mr Meyers out of the Three Bars (TB) mare Otro Mambo (TB) had a highly successful career in Louisiana. She made 38 starts between 1968 and 1970, with a record of 22 wins, five seconds and five third-place finishes. The speedy mare ran exclusively at Evangeline Downs where she won 11 stakes, including the Acadian Classic Handicap and Donald S. Gardiner Sr. Memorial Handicap.
Go Vicki Meyers will be inducted in the LQHBA Hall of Fame later this year.
c.,1972—Courtesy Speedhorse Magazine
Versatile at pretty much every distance, Go Vicki Meyers posted victories in the Evangeline Downs 300, 330, 350, 400 and 440 Champions. She is credited with setting two track records in 1970: 300 yards in :15.800 seconds and 330 yards in :16.930 seconds. Her highest recorded Speed Index was 103.
 Following her retirement from racing at the end of 1970, she entered her second career as a broodmare, producing three foals, including a stakes-placed filly by Lion Deck named Lionette. She made 16 starts at Delta Downs from 1976 through 1978 and finished second in the Sportman's Paradise Futurity.   She was owned by CT Fuller Stable of LA Stud, Inc in Opelousas.
  Go Vicki Myers first foal was an unraced daughter of world champion Jet Deck, Magic Garden who is the dam of stakes winner Time For Magic SI 111, winner of 17 races and $73,772; and stakes-placed seven-time winner Bad Magic SI 99 who earned $22,148.
  Go Vicki Myers half-sister Leo's Mambo (by Leo) is the granddam of two-time AQHA Racing Champion Denim N Diamonds SI 105 who won 25 of 35 career starts, earned $731,118 with wins that included the Champion of Champions, Go Man Go Handicap and Vessels Maturity to name a few.
This female line is responsible for such Quarter Horse stakes runners as Classy Native SI 101 ($257,414), Duke Of Houston SI 122 ($201,481), Star Of Sierra Leone SI 98 ($186,355), VGC Moon Walk SI 102 ($119,701) and Mr Roberto SI 100 ($113,487).
LQHBA Hall of Fame
On April 9, 2016, Leverne Perry and Claude and Bessie Lea Jeane, Oh Black Magic, Rocket's Magic and Royal Bushwhacker were inducted into the Louisiana Quarter Horse Breeders Association (LQHBA) inaugural Hall of Fame. The ceremony was held in conjunction with the 50th anniversary of the association.
Tony Patterson, LQHBA executive director, looks forward to saluting the 2017 inductees.
"Our board of directors join me in taking great pride in recognizing these outstanding individuals and racing champions as we induct them into the second class of the LQHBA Hall of Fame," stated Patterson. "Each have made significant contributions to Louisiana breeding and racing and could not be more deserving of this honor."
LQHBA is the state racing affiliate of the American Quarter Horse Association.  It is also the official registry for accredited Louisiana-bred racing Quarter Horses and is recognized by the Louisiana Legislature and the Louisiana State Racing Commission.  Since its inception in 1966, the association has developed a number of programs to further breeding and racing in Louisiana. Last year in Louisiana horsemen competed for over $21 million in purses, and breeders' incentives for mares, stallions and accredited Louisiana-bred foals totaled approximately $4.8 million.  LQHBA oversees the annual LQHBA Yearling Sale and Fall Mixed Sale, and has raised and donated over $440,000 to support its Louisiana youth scholarship program.