LQHBA Scholarship Drawings Set for Saturday Night
LQHBA will award a total of six scholarships valued at $15,000 during Saturday's LQHBA Louisiana Million Night at Evangeline Downs.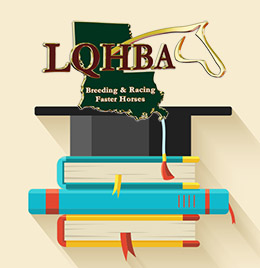 by Martha Claussen
OPELOUSAS, LA—DECEMBER 10, 2018—Since 2001, the Louisiana Quarter Horse Breeders Association (LQHBA) scholarship program has provided financial aid for students.
LQHBA has announced that a total of six scholarships will be awarded on Saturday (Dec 15), LQHBA Louisiana Million Night at Evangeline Downs (see related story). One for $5,000 and five additional $2,000 scholarships, including the $2,000 Paul Ryder Memorial Scholarship will be awarded.
Scholarship entrants must be a Louisiana High School graduate or a Louisiana High School student graduating in 2019 planning to attend a higher education institution.
No application forms are required, but students must register in person at the LQHBA Scholarship Registration Table adjacent to the elevators on the main level of the grandstand, beginning at 5:00 pm on Saturday night. Registration will close at 6:45 pm and scholarships will be drawn live after race four in the winner's circle by LQHBA board members, local legislators and dignitaries. Students must be present to win.
The scholarship program was the vision of the late Jim Mitchell and Executive Director Emeritus Leverne Perry, and is supported strongly by the LQHBA, its board members and many generous sponsors. Over $550,000, has been earmarked for this program since its inception.
Tony Patterson, LQHBA executive director, is proud of the support shown by sponsors, including Hart Farms, Robicheaux Ranch and Knorpp Bloodstock Insurance Agency, LC. Hart Farms donated a breeding to stallion Freighttrain B in the 2018 LQHBA Fall Mixed Sale and Robicheaux Ranch generously offered a breeding to Jet Black Patriot during the 2018 LQHBA Yearling Sale. Other farms have always stepped up when asked.
"The LQHBA Scholarship program is a very important priority for our association," said Patterson. "It could not be successful without the continued support of our sponsors. Furthering the education of Louisiana students is something we all believe in!"
For more information on the LQHBA Scholarship Program, visit LQHBA.com or call the LQHBA office in Alexandria at (318) 487-9506.
* * * * * * * * * * * * * * *
Martha Claussen served as publicity director at Sam Houston Race Park for ten years. She continues to be active in writing, fan education and Quarter Horse racing publicity in Texas, Louisiana and other regions in North America.