Services Set Thursday for Jackson Jumonville
Funeral services for Jackson Jumonville will be held Thursday in Lafayette.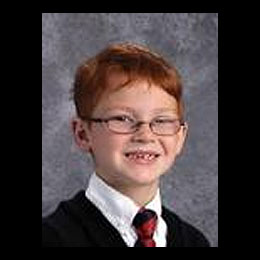 OPELOUSAS, LA—OCTOBER 3, 2016—
Funeral services will held Thursday for Jackson Jumonville, the son of Tres Jumonville and Stephanie Cook and grandson of longtime Quarter Horse owners J.E. and Bunny Jumonville.
Jackson passed away peacefully on Sunday (Oct. 2), surrounded by his family at Woman's and Children's Hospital in Lafayette at the age of 7. He was a student at Berchman's Academy of the Sacred Heart in Grand Coteau, Louisiana and a resident of Opelousas.
Visiting will be at Crossroads Church, 150 Verona Drive in Lafayette on Thursday (Oct. 6) from 10am until religious services at 1 pm. Pastor Jeff Ables will conduct the service. Entombment will follow at Grace Memorial Park in Plaquemine.
Jackson was a vivacious fun loving child. His interest included sports in all areas, and was gaining a special interest in football. Jackson loved playing outdoors with his siblings, going on scavenger hunts, playing on his playstation, building Legos, spending time at the beach collecting hermit crabs, and he especially loved spending time with his friends and family and his dogs ZZ and Cooper.
His smile and charisma will be missed by every heart he has touched. Jackson will provide new life for other children through his organ donations. It is comforting to know that Jackson will continue to run and play disguised as other children.
Jackson is survived by his mother, Stephanie Cook and fiancé Greg Eckler; father and step mother, John "Tres" Enoul Jumonville, III and wife Toni Zerangue Jumonville; sisters, Brooke Hodges and fiancé Ruben Cearrientes, and Julia Elinore Jumonville; brothers, John Enoul Jumonville, IV and Joseph "Jet" Elijah Jumonville; nephew, Gabriel Ace Cearrientes; grandparents, Carolyn Gresham Cook, John Enoul, Jr. and Beverly "Bunny" Callais Jumonville, Dianna Gail Zerangue, and Richard and Debbie Eckler; and numerous aunts, uncles and cousins.
He was preceded in death by grandparents, Andrew Cook and Larry Joseph Zerangue, Sr. and uncle, Andy Cook.
Special thanks to Opelousas Police Department, St. Landry EMS, Opelousas Fire Department, OGH South, Woman's and Children's Hospital of Lafayette, Life Flight and LOPA.
Wilbert Funeral Home in Plaquemine is in charge of the service.