Eligibility Lists for 2017 QH Louisiana Champions Day Released, Entries Due Friday
Time of entries for the 2017 Louisiana Champions Day are due Friday.

© Fair Grounds Race Course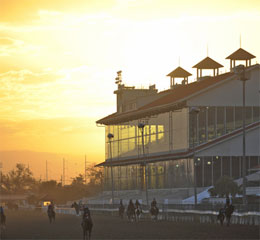 ALEXANDRIA, LA—NOVEMBER 28, 2017—
Eligibility lists for the 2017 Louisiana Champion Day races for Accredited Louisiana-Bred horses were released today. Time of entry for horses eligible to enter is between 8 and 10 am Friday (December 1).
The annual Champions Day will be held Saturday, December 9th at Fairgrounds Racecourse in New Orleans will include these Quarter Horse stakes races:
Juvenile (RG2) - 2 Year Olds 350 yards $100,000 Guaranteed
Derby (RG3) - 3 Year Olds 400 yards $100,000 Guaranteed
Classic (RG2) - 4 Y.O. & Up 440 yards $100,000 Guaranteed
To enter and start, an entry fee of $600 plus $131 jockey mount fee must be received by the Horsemen's Bookkeeper prior to time of entry.
Mail entry payments to:
Fair Grounds: Horsemen's Bookkeeper
1751 Gentilly Blvd.
New Orleans, LA 70119
Telephone: 1-800-786-0010 • 504-948-1111 • 504-944-5515
Nomination and entry fees will be refunded if horse is not one of the eligibles for race.
Qualifiers for each of the three races will be based on 2017 earnings through and including November 25, 2017 as verified by the American Quarter Horse Association. Twelve horse fields are always encouraged.
Click below for horses that are eligible to enter:
For additional information visit the LQHBA website at lqhba.com or call 318.487.9506.