Nominations Due Thursday For 2019 Louisiana Downs Stakes
Nominations for 2019 Louisiana Downs stakes races are coming due Thursday for the 2019 Mardi Gras Derby and the 2019 Harrah's Entertainment QH Futurity(G3).

© Louisiana Downs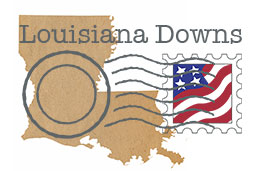 ALEXANDRIA, LA—OCTOBER 30, 2018—
Horsemen and women are reminded there are nominations due Thursday (Nov. 1) and November 15th for three 2019 stakes races to be held during the 2019 American Quarter Horse race meet January 5th thru March 20th at Louisiana Downs.
A $200 nomination fee for the $100,000-est. 2019 Mardi Gras Derby is due Thursday (Nov 1). The 400 yard race, for accredited Louisiana-bred foals of 2016, will be contested over 400 yards at Louisiana Downs March 16, 2019 (trials February 23). An additional payment of $300 will be due January 1 to stay and eligible and $500 payment will be due at time of entry.
Open-bred Quarter Horse foals of 2017 must make a nomination payment of $500 on Thursday (Nov. 1) to enter the $250,000-est. Grade 3 Harrah's Quarter Horse Futurity. A $500 sustaining payment will be due on January 1, 2019 as well as $1,000 to enter the trials. Supplemental nominations of $6,000 can be made at time of entry to the trials.
Louisiana-bred foals of 2017 must make a nomination payment of $300 on or before Thursday November 15th for the $250,000-Guaranteed Mardi Gras Futurity(RG2). An additional sustaining payment of $400 will be due December 15 as well as $500 to enter the trials.
To download nominations forms for all three of these 2019 Louisiana stakes races CLICK HERE.
For additional information visit the Louisiana Quarter Horse Breeders' website at lqhba.com.