2019 LQHBA Hall Of Fame Nominations Due December 20
LQHBA Hall of Fame nominations are due Friday, December 20.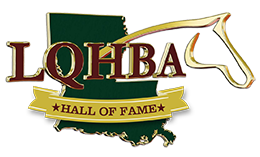 ALEXANDRIA, LAŚNOVEMBER 27, 2019Ś
LQHBA members looking to nominate a person or horse for the 2019 LQHBA Hall of Fame class of 2019 must turn in nomination forms on or before December 20, 2019.
Biographical information must be included with the form to support your nomination. Only deceased horses may be nominated and the horse's date of death must be included.
CLICK HERE to download a nomination form.
Send nomination forms to: Louisiana Quarter Horse Breeders Association, Attn: Bruce Salard. 105 Carlyon Lane. Alexandria, LA 71303 Email: bsalard@lqhba.com
Past LQHBA Hall of Fame inductees can be found on lqhba.com or by CLICKING HERE.
For additional information visit the associations website at lqhba.com or call (318) 487-9506.