2016 LQHBA Yearling Sale Meet Your Next Graded Stakes Winner
LQHBA Champion Jess A Saint (#10) winning the $1,000,000 LQHBA Breeders Futurity at Evangeline Downs November 27, 2015.

© Coady Photography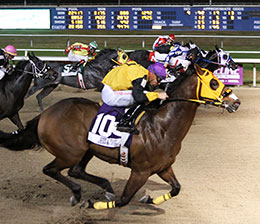 By Martha Claussen
ALEXANDRIA, LA—AUGUST 3, 2016—The Louisiana Quarter Horse Breeders Association (LQHBA) is in final preparation for its 40th annual Louisiana Bred Yearling Sale on Friday, August 12 and Saturday, August 13 at the Coushatta Casino Resort Pavilion in Kinder, Louisiana.
The first LQHBA Yearling Sale began in 1977 with just 39 yearlings. The 2016 sale catalog lists 577 yearlings and as in past years, prospective buyers will travel from all regions in the United States as well as Canada and Mexico to bid on their future racing champion. Each of the yearlings is paid to date and eligible to compete in the $1 million LQHBA Breeders Futurity (RG1) at Evangeline Downs in November, 2017. Furthermore, all yearlings that pass through the sale ring are entitled to compete in the $300,000-estimated LQHBA Sale Futurity (RG1), which traditionally runs Labor Day weekend at Fair Grounds.
LQHBA appreciates the backing of each of the agents and consignors for the upcoming sale. Tate Farms, Blanchet Farms, Robicheaux Ranch, Jumonville Farms, S & E Prepping and Grant Farms are among the solid supporters of the sale.
Sale Growth Continues Each Year
The 2015 LQHBA Yearling Sale recorded major across-the-board increases with 563 head offered and sale tickets were written for 425 yearlings for a total of $5,026,200. Compare those numbers to 2014, when 383 yearlings sold for a total of $4,943,400, which was a 30% increase from 2013.
LQHBA has been spreading good news about the current state of affairs in both breeding and racing. Through the continued support of state lawmakers, Louisiana's four racetracks, Louisiana Downs, Delta Downs, Fair Grounds and Evangeline Downs held 143 Quarter Horse race days in 2015. Horsemen were able to run for an average of $154,000 in purses per day and total purses for the year exceeded $22 million dollars!
Kenneth Roberts, Sr. just clinched his seventh leading training title at Delta Downs. He is one of many skilled horsemen who now make Louisiana their permanent base of operation.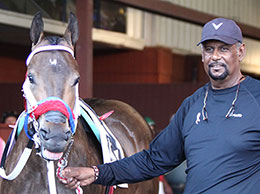 Kenneth Roberts, Sr. won his seventh leading training title at Delta Downs this season.
© Coady Photography
"I've had new owners approach me about buying Louisiana-breds," said Roberts. "The incentives are really good. For me, why do I want to go anywhere else when I can run in my home state and make a very good living?"
The Breeder (mare owner) and Stallion Awards have increased substantially over the last decade. In 2015, a total of $5,037,636 was paid to participating horsemen. Breeder incentives are not an afterthought in Louisiana; they are clearly stated and the rewards are rich.
Take a look at the numbers of the 2016 Lee Berwick Futurity winner, Watergirl B. Bred in Louisiana by C. Edward Taylor, Watergirl B is a 2-year-old sorrel filly by Game Patriot, out of the Invisible Injun mare Thats Injunuity. Purchased for just $6,000 at the 2015 LQHBA Yearling Sale, she won the $690,295 Lee Berwick Futurity (RG1) as a maiden, earning $345,147 for owner Vanessa Bartoo. Her breeder will receive a check for $86,286 and substantially more should Watergirl B qualify for the seven-figure LQHBA Breeders Futurity later this year.
Huge Rewards From Modest Sale Expenditures
What is most impressive is the number of very modest purchase prices for horses that develop into major champions, yielding huge return on investments for their owners.
Jess A Saint, a son of Jess Louisiana Blue, sold for $7,200 at last year's LQHBA Yearling Sale. The gelding was bred by J.E. and Bunny Jumonville of Jumonville Farms. One of the most respected breeders in Louisiana, they stand Jess Louisiana Blue, who at 19 years-old, is the current AQHA #3 Leading Sire of 2-year-old graded stakes winners and top 20 leading sire of money earners!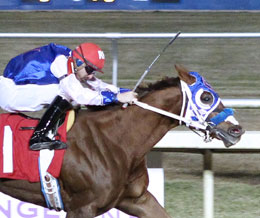 Jls Dashn And Zoomn, a $7,500 LQHBA graduate, has earned more than $535,000.
© Coady Photography
Julio Rios signed the sale ticket and watched as Jess A Saint, the tenth-fastest qualifier, won the 2014 LQHBA Breeders Futurity (RG1) at Evangeline Downs. He accepted a check for $445,000, the winner's share of the richest race in Louisiana.
Jls Dashn And Zoomn, a $7,500 purchase at the 2013 LQHBA Yearling Sale, provided a very lucrative return on that investment when he scored a half-length victory in the $1 million LQHBA Breeders Futurity (RG1) at Evangeline Downs. Owned by Jose Guzman and trained by Brenda Foster, the gelded son of Sir Runaway Dash covered 400 yards in :19.726 under jockey Raul Ramirez Jr. to earn a first-place check for $445,000. Bred by JLS Speed Horse Ranch Inc., Jls Dashn And Zoomn has topped the half-million mark in career earnings.
Jason Richards and Michael J. Leblanc spotted Jessa Louisiana Zoom in the 2014 LQHBA Yearling Sale, and signed the ticket for $22,000. Bred in Louisiana by Lyle Guillory, Jessa Louisiana Zoom is a daughter of Jess Louisiana Blue out of the Azoom mare Zoomin for Cash. The talented filly won both the Lassie and Lee Berwick Futurities, and is a force in her 3-year-old season with a runner-up finish in the Delta Downs Derby. She has earned $575,107 to date.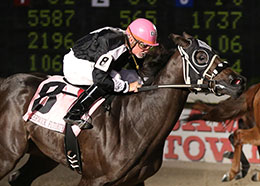 Jessa Louisiana Zoom a $22,000 LQHBA graduate, has earned more than $575,000 to 3, 2016.
© Coady Photography
Historical sale graduates of merit include
Jet Black Patriot
, owned and bred by Richard and Janelle Simon. He garnered national attention for Louisiana winning the 2008 LQHBA Breeders Futurity as well as finishing second to
Stoli
s Winner in the $2 million All American Futurity (G1). Jls Mr Bigtime, bred by JLS Speedhorse Ranch, ran second in the 2010 All American Futurity (G1) and eclipsed the $1 million mark in career earnings. Open Me a Corona, a son of
Coronas Leaving You
, bred by Natalie Montgomery, DVM, and owned by Charles Forbes, Jr. and Tommy Hays DVM, was honored as 2015 AQHA Aged Stallion. The versatile runner has won 14 of 18 career starts, amassing earnings of $852,758.
Sale to Benefit the LQHBA Scholarship Program
The LQHBA is the official registry of accredited Louisiana-bred Quarter Horses. They run two sales each year, the LQHBA Yearling Sale and a Fall Mixed Sale. Louisiana continues to be the leading state-bred program in the country and while LQHBA is committed to breeding and racing in the state, the association remains dedicated to offering higher education for Louisiana youth. Since its inception in 2001, the LQHBA scholarship program has earmarked over $430,000 for Louisiana students to attend a higher education institution.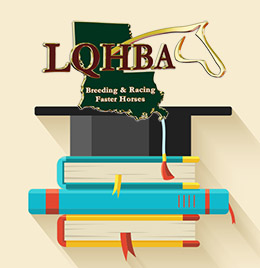 Since its inception the LQHBA scholarship program has earmarked over $430,000 for Louisiana students to attend a higher education institution.
As a fundraiser for the scholarship fund, a breeding to
FDD Dynasty
will be auctioned live on Saturday, August 13th at 9:30 am, right before the second day of the yearling sale.
FDD Dynasty
, honored by AQHA as both Champion 2-year-old and three-year-old colt. He stands at Bob Moore Farms in Norman, Oklahoma, and continues his status as a highly successful stallion with graded stakes progeny including Far Niente, Kates Dynasty and Nellie Delany. In last weekend's TQHA Yearling Sale, the average purchase price for a son or daughter of
FDD Dynasty
was $55,000.
The net proceeds from the auction will benefit the LQHBA Youth Scholarship program with more students to benefit in 2016.
"We are grateful to the connections of FDD Dynasty for offering a breeding to such a nationally acclaimed stallion," said Tony Patterson, LQHBA executive director. "Both our Yearling Sale and Youth Scholarship program are extremely important to our association. We look forward to this outstanding fundraising opportunity."
Previews Set for Thursday, August 11
Prospective buyers are invited to attend two events on the day before the sale. On Thursday at noon, S&E Prepping will host a Fish Fry and Yearling Sale preview at barn #1 at the Coushatta Sales Pavilion.
Robicheaux Ranch, LLC has been one of the biggest consignors for the LQHBA Yearling Sale. This year they will showcase a record 124 yearlings and will host their annual consignment preview and Cajun cookout. Their event will take place on Thursday, August 11 at 6:30 pm in the Coushatta Casino Resort Pavilion.
"It's a sneak preview at all of the yearlings in the catalog," said Ryan Robicheaux, sale coordinator for the Robicheaux family. "We enjoy hosting trainers and owners; it's kind of like one stop shopping and gives some horses a better chance to be seen.
Robicheaux Ranch located in Breaux Bridge, Louisiana, has enjoyed a 16-year association with the LQHBA Yearling Sale. Their highly regarded stallion roster includes Heza Fast Dash, Game Patriot, Jet Black Patriot, Toast to Dash, Apollitical Blood, Fast Prize Jordan and One Handsome Man.
"Breeding season was really busy for us," stated Robicheaux. "That's why we have record numbers this year. But we know there will be a lot of quality horses in the sale. The preview gives prospective buyers one more chance to look over our consignments. In the past, horsemen have told me that one caught their eye and that's why they bid on them in the sale."
Sale Time
The LQHBA board of directors have been extremely pleased with the Coushatta Casino Resort Pavilion as a venue for the sale. Attendees enjoy the ambiance, comfortable hotel accommodations, dining and gaming.
Improvements in recent years include live online coverage as well as a booth with an interpreter for Spanish-speaking buyers. Purchases can be made with approve checks, cash or credit cards.
"We have received numerous compliments on both the quality of the yearlings and the overall operation of our sale," adds Patterson. "Each year, we try to make improvements to provide the best experience for our sale attendees and consignors."
Judging from the number of catalog requests this year, the 2016 LQHBA Yearling Sale looks to attract serious buyers. And with 577 youngsters passing through the sale ring, it's no secret that several will emerge as noteworthy Louisiana champions.
* * * * * * * * * * * * *
Martha Claussen served as publicity director at Sam Houston Race Park for ten years and continues to be active in writing, fan education and Quarter Horse racing publicity in Texas, Louisiana and other regions in North America.
2016LQHBA Yearling Sale Information
Friday, August 12 and Saturday, August 13 • 9:30 AM
Coushatta Casino Resort Pavilion, Kinder, Louisiana
Free and open to the public
Sale catalog available online at LQHBA.com or by calling (318) 487-9506
To watch the Sale Online: CLICK HERE.