Fair Grounds Quarter Horse Meet At Delta Downs To Kick Off July 28, Two New Stakes Added
Delta Downs will host the 2022 Fair Grounds Race Course Quarter Horse Meeting.

© Coady Photography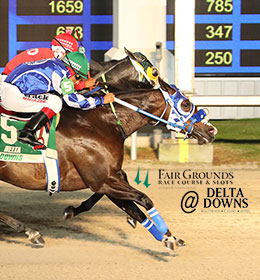 VINTON, LA–JULY 11, 2022–The 2022 Fair Grounds Quarter Horse Meet will be run at Delta Downs this year beginning in July 28 and continuing through Saturday, September 3.
The 2022 meeting has increased from 10 days in past years to 15 for 2022.
There will be no Quarter Horse racing in Louisiana during the first week of August to allow for the annual LQHBA Yearling Sale on August 5th and 6th in Kinder.
Quarter Horse racing will return to Louisiana on August 11th and continue every Wednesday, Thursday and Friday.

Closing night will feature finals for the $500,000-est. LQHBA Sale Futurity (RG1) on Saturday, September 03.
Trials for the LQHBA Sale Futurity will be conducted over two days, Friday, August 12t and Saturday, August 13th.
Two stakes for 2022 will join the Fair Grounds Quarter Horse Stakes Schedule, they are:
• $30,000-G. LQHBA Sales Juvenile for 2YO LA-Bred Colts & Geldings
• $30,000-G. LQHBA Sales Debutante for 2YO LA-Bred Fillies
See Nomination Blank for Restrictions for these two races.
For the complete Fair Grounds QH Stakes Schedule CLICK HERE.

For additional information contact LQHBA at (318) 487-9506 pr visit the association website at lqhba.com