Trials Set October 28 For $1,000,000 LQHBA Breeders Futurity, 138 Horses Entered Across 15 Trials
Two-time futurity winner Rdd Lajollanfastdash will make his next start Friday, October 28th in the $1 million LQHBA Breeders' Futurity trials at Evangeline Downs.

© Coady Photography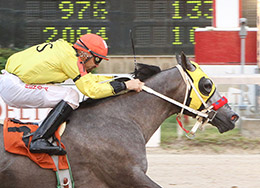 OPELOUSAS, LA—OCTOBER 21, 2016—
Entries were taken at Evangeline Downs on Thursday for the $1,000,000 LQHBA Breeders Futurity (RG1) for 2-year-old Louisiana-breds. There were 138 horses entered to run in 15 trials to be held on Friday, October 28. The 10 fastest qualifiers will return to race in the Final, which will be run on Saturday, November 19.
There will be a special early post time at Evangeline Downs with the expanded schedule on Friday night. Post time will now be 4:35 pm Central Time for the first of the 15 trial races.
Trainer Kenneth Roberts, Sr. leads the way with 16 horses entered in the 15 trials. In fact, he has at least one horse entered in each trial race and has two entered in the 10th race of the evening. Michael Taylor will have 10 horses entered in the trials and Trey Ellis is right behind him with nine horses entered on Friday night.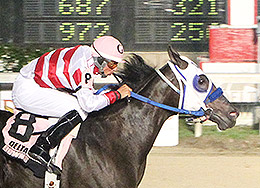 LQHBA Lassie Futurity winner Louisiana Jewels will face multiple stakes winner Rdd Rdd Lajollanfastdash in the 10th trial.
© Coady Photography
That 10th race on Friday night promises to be the most intriguing race of the entire evening with two of the entrants possibly destined to meet up once again in the Final.
Rdd Lajollanfastdash is the 2-1 morning line favorite and has already won two Futurity Finals in 2016. The Heza Fast Dash gelding, trained by Jose Sanchez, won the $273,000 Mardi Gras Futurity at Louisiana Downs in March and added the $323,000 LQHBA Sale Futurity at Fair Grounds in September.
He will be facing Louisiana Jewels, a Jess Louisiana Blue filly, who is the second choice at 3-1. She won the $298,000 Louisiana Lassie Futurity in May at Delta Downs and was the runner-up in the $690,000 Lee Berwick Futurity, also at Delta Downs.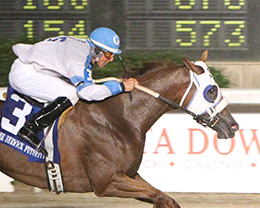 Lee Berwick Futurity winner Watergirl B is the 3-1 morning-line favorite in the 14th trial.
© Coady Photography
Watergirl B, who upset the Lee Berwick Futurity at 42-1, is also entered to run on Friday night at Evangeline Downs. The
Game Patriot
filly, trained by John Stinebaugh, is the 3-1 morning line favorite in the 14th trial of the evening. Another 2016 Futurity winner, Dragon N Panther, who won the Louisiana Laddie Futurity at Delta Downs in May, has been installed as the 3-1 favorite in the second trial on Friday night.
The LQHBA Breeders Futurity Final will take place on a stellar program on Saturday, November 19 that will also include the $150,000-added LQHBA Breeders Derby and the $40,000 LQHBA Invitational Breeders Stakes.
For more information on the American Quarter Horse season at Evangeline Downs, visit the track's website at evdracing.com. Evangeline Downs' Twitter handle is @EVDRacing and the racetrack is also accessible on Facebook at www.facebook.com/EvanglineDownsRacing.
* * * * * * * * * * * * * * * * * *
About Evangeline Downs
Evangeline Downs Racetrack Casino & Hotel is owned by Boyd Gaming Corporation, a leading diversified owner and operator of 22 gaming entertainment properties located in Nevada, New Jersey, Illinois, Indiana, Iowa, Kansas, Louisiana and Mississippi. Boyd Gaming press releases are available at www.prnewswire.com. Additional news and information can be found at www.boydgaming.com, or evangelinedowns.com
.