Stall Applications For 2020 Delta Downs Quarter Horse Season Due Wednesday
Stall applications for the 2020 Delta Downs Quarter Horse meet are due Wednesday, March 4.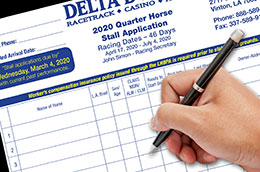 VINTON, LA—FEBRUARY 28, 2020—
Delta Downs hosts one of the nation's top American Quarter Horse meetings each year and the 2020 season is shaping up to be one the best ever.
The 46-day stand will run from April 17 – July 4 and the track is currently accepting stall applications, which are due by Wednesday, March 4 in the racing office.
Horsemen who wish to apply for stalls can obtain an application online at the track's website, deltadownsracing.com, under the 'Horsemen's Info' tab, or they can CLICK HERE.
For additional information or questions contact the racing office directly at 1-888-589-7223. The fax number to submit applications is 337-589-9191.
Highlights of the upcoming meet include the $1,000,000-estimated Lee Berwick Futurity (RG1) for Louisiana-breds on closing night, July 4, and the $400,000-est. Firecracker Futurity (G2) for open-bred horses on July 3.
Other major stakes schedule for the meet include the $75,000-added Lassie and Laddie Futurities, taking place on May 15 and 16 respectively, and the $100,0000-added Firecracker Derby (RG3), which will be run on July 3.
* * * * * * * * * * * * * * * * * * * * *
For more information about the new season visit the track's website at deltadownsracing.com.
Delta Downs Racetrack Casino and Hotel, a property of Boyd Gaming Corporation (NYSE:BYD), features exciting casino action, live horse racing and fun dining experiences. Delta Downs is located in Vinton, Louisiana, on Delta Downs Drive. From Lake Charles, take Exit 7 and from Texas, take Exit 4.