Sustaining Payment Due July 1 for 2019 LQHBA Breeders' Sale Futurity
The fourth payment for the 2019 LQHBA Breeders' Sale Futurity is due on or before July 1.

© Hodges Photography / Ann Switalski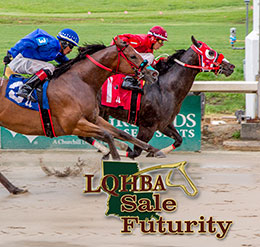 ALEXANDRIA, LA—JUNE 20, 2019—
A sustaining payment for horses to remain eligible for the 2019 $400,000-est. LQHBA Breeders' Sale Futurity(RG1) is due July 1st.
The fourth payment of $350 is due on or before July 1. Late supplements are accepted at time of entry for $11,000. Owners must be a current LQHBA member.
Only 2017 accredited Louisiana Bred foals that passed through the sale ring of the 2018 LQHBA Yearling Sale or the 2017 - 2018 LQHBA Fall Mixed Sale are eligible.
Horsemen and women are asked to please mail payments via certified mail or overnight delivery to LQHBA, 105 Carlyon Lane, Alexandria, LA 71303-7783 for their protection.
For additional information visit the association's website at lqhba.com for call (318) 487-9506.