Funeral Services Set Wednesday For Jimmy Lowell Hart
Funeral services are set Wednesday in Royston, Georgia for Jimmy Lowell Hart.

© Courtesy Pruitt Funeral Home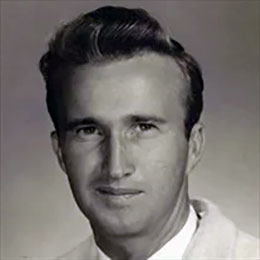 ROYSTON, GA—MARCH 24, 2019—
Funeral services for Jimmy Lowell Hart, 85, will be held Wednesday in Royston, Georgia. Hart, of Royston, passed away Sunday (Mar. 24) at Piedmont Athens Regional Medical Center in Athens.
Rev. Bert Synan and Rev. David Bryan officiate the services at 2:00 pm (CDT) at the Peniel Pentecostal Holiness Church Interment will follow in the Hart family farm.
Mr. Hart was born on December 2, 1933 in Royston, GA, son of the late Guy H. Hart and the late Gertrude Phillips Hart. He was a farmer, business owner and in later years helped his son, Chad, with Hart Farms. Mr. Hart was a U. S. Army veteran having served during the Korean conflict.
Mr. Hart is in the Emmanuel College Basketball Hall of Fame and a longtime member of the American Quarter Horse Association. He loved his family, people, and really enjoyed kids of all ages. He loved horses and all sports, especially basketball, and once played a round of golf at the Masters.
Survivors include his son, Chadwick Lowell Hart and girlfriend, Jody Marie Nelson; brothers, Joel Hart of Blacksburg, VA, Havard Hart of Royston, GA and Herman Hart of Toccoa, GA; sisters, Faye Nell Pulliam of Greenwood, SC, Fern Pearson of Ellenwood, GA, Loretta Phillips of Royston, GA; Florence Wickiser of Anderson, SC and Sue Hill of Destin, FL.
The family will receive friends at Pruitt Funeral Home from 6:00 P.M. until 8:00 P.M. on Tuesday evening. Pruitt Funeral Home in Royston, GA is in charge of arrangements.