Open Letter To Membership Of Louisiana Quarter Horse Breeders Association
LQHBA Members are urged to attend the August 27 Louisiana State Racing Commission Meeting.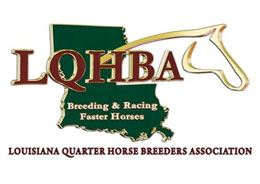 August 23, 2018
Re: Fair Grounds 2019 Quarter Horse Meet Proposal
Dear LQHBA Members,
We need your attendance at the Louisiana State Racing Commission Meeting on Monday, August 27, 2018 @ 9:00 AM in the Queen Anne Ballroom of the Monteleone Hotel located at 214 Royal Street, New Orleans, LA 70130.
Fair Grounds Race Course is attempting to move our 2019 Quarter Horse meet from the usual August/September dates to late March/early April. To make matters worse, the Louisiana HBPA (a Horsemen's Representative) has voted to support this move of the 2019 Fair Grounds Quarter Horse meet. The Louisiana HBPA is sacrificing the Quarter Horse industry by supporting the move of our Fair Grounds Quarter Horse race dates, proving once again they do not support or fairly represent their Quarter Horse membership.
The move of our meet by Fair Grounds would negatively impact our Quarter Horse Racing and Breeding industry. A few examples of this negative impact would be:
88 consecutive days of no Quarter Horse racing from the end of the Delta Downs Quarter Horse meet and the beginning of the Evangeline Downs Quarter Horse meet. There would be no Quarter Horse Racing in Louisiana for three consecutive months.
The 2019 Louisiana Downs Quarter Horse meet ends on March 20th – only seven days before the Fair Grounds meet would begin. It is 350 miles between Louisiana Downs and Fair Grounds, making it extremely difficult for Quarter Horses to make the move successfully and safely.
Our LQHBA Sale Futurity is run @ Fair Grounds and we have our largest purse ever this year of $435,000. If this Fair Grounds meet doesn't exist in Aug/Sept – we would be forced to run our Sale Futurity at Evangeline Downs and it would be in direct conflict with our Louisiana Million Futurity having a negative effect on the purse money. The negative effect on purse money would have a negative effect on our yearling sale. Those two major futurities would be jammed up with very little time in between causing both races to suffer. It would take away the opportunity for most horses to run in both races.
Attempting to run our Quarter Horse meet @ Fair Grounds while Jazz Fest is being built and just two weeks before Jazz Fest begins is most definitely not in the best interest of the safety of horses and horsemen.
First, and foremost we want to thank all LQHBA members for your support and hard work in making accredited Louisiana Breds and our LQHBA program the very best! With success, we must remain diligent in protecting our program.
We hope to see you there!
Sincerely,
Tony Patterson
Executive Director
105 Carlyon Lane Alexandria, LA 71303 318-487-9506 Fax-318-487-6033
www.lqhba.com