David Alvarez Wins Three Out of Four Louisiana Riding Titles in 2015
The Alvarez family, Wendy, David, Jr., David, Emily and Ashley at Evangeline Downs.

© Coady Photography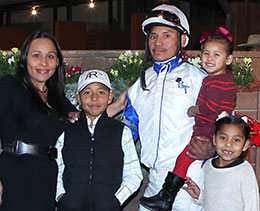 By Martha Claussen
OPELOUSAS, LA—DECEMBER 24, 2015—It's been a successful year for Louisiana-based jockey David Alvarez. The 37-year-old rider won his third leading rider title of the year on Saturday, December 19 at Evangeline Downs. His title quest began at Louisiana Downs when he finished in a tie with Raul Ramirez, Jr. in March. He topped the standings at Fair Grounds and came from behind to tie John Hamilton at Evangeline.
In the final weekend of the Evangeline meet, Alvarez won four races in a row on the Friday night card, to get within one of Hamilton, the top-ranked Quarter Horse rider in the country by wins, Hamilton did not win on Saturday, but Alvarez rode Kimbo Slice to a dead-heat victory in the fifth, to finish in a dead-heat for the title!
"It was pretty exciting," said Alvarez. "I told my family on Friday to pray for me and I had a good night."
Alvarez was born in Veracruz, Mexico and has forged solid bonds with many Louisiana and Texas trainers.
He is part of a Louisiana-based jockey trio that tops all Quarter Horse riders in wins, according to AQHA statistics. Hamilton leads with 152 victories; Alvarez has 137 wins and Ramirez has won 126 races in 2016.
"I am grateful to many horsemen, especially Martin Trejo and Bobby Touchet," said Alvarez.
Of course, also to his wife, Wendy, and three children, David, Emily and Ashley for their prayers and support!
* * * * * * * * * * * * * * * * * * * * * *
Martha Claussen served as publicity director at Sam Houston Race Park for ten years. She continues to be active in writing, fan education and Quarter Horse racing publicity in Texas, Louisiana and other regions in North America.