LQHBA To Use New Selection Format for Champions in 2015
LQHBA will uses a new format this year to select their year-end racing champions.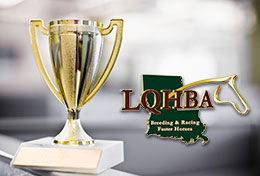 ALEXANDRIA, LA—NOVEMBER 3, 2015—
LQHBA Executive Director Tony Patterson announced today the Louisiana Quarter Horse Breeders' Association (LQHBA) will use a new selection format beginning in 2015 to determine the association's annual Champions.
The formula to be used beginning with selections of the 2015 champions will be as follows:
Take the AQHA Points of the highest money earner by category
Add 10 points for winning a stake race
Add 5 points for finishing 2nd in a stakes race
Add 3 points for finishing 3rd in a stake race
Add 1 point for qualifying to a Futurity or Derby Final
If the highest money earner's (by category) new point total is the highest for that category – then that horse is an LQHBA Champion
If the highest money earner's new point total is not the highest (by category) – then we will have co-champions for that category (the highest money earner and the highest AQHA point total)
This new format was approved at the September LQHBA board meeting held at Evangeline Downs.
For additional information contact LQHBA at 318.487.9506.