LQHBA To Offer Scholarship Drawings, Charitable Donation July 8th at Delta Downs
The July 8th festivities to include a $5,000 donation to Acadiana Affiliate of Susan G. Komen.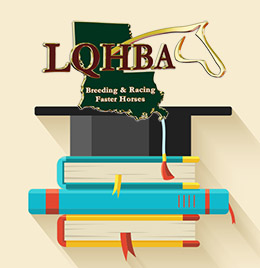 ALEXANDRIA, LA—JUNE 29, 2016—
The Louisiana Quarter Horse Breeders Association (LQHBA) will make several charitable donations on Saturday, July 8 at Delta Downs.
The well-attended event is the final night of the 2017 Quarter Horse racing season and will include several quality stakes, including the record setting $705,495 Lee Berwick Futurity (RG1) and the $257,160 Delta Downs Louisiana Bred Derby (RG3).
Through the generous support of sponsors like Delta Equine Center, Jumonville Farms, Speedhorse Magazine, TRACK Magazine and StallioneSearch.com there will be a $5,000 donation presentation to the Susan G. Komen Acadiana Affiliate in the winner's circle that evening.
The mission of the Acadiana Affiliate of Susan G. Komen is to save lives and end breast cancer forever by empowering others, ensuring quality care for all and energizing science to find the cures. 75% of the net proceeds raised by the Acadiana Affiliate remain in their 19 Parish Service Area, which covers Acadiana, Central and Southwest Louisiana, to fund community projects related to breast cancer health education, breast cancer screening and treatment. The remaining 25% supports Komen's National Award and Research Grant Program, which funds groundbreaking breast cancer research to find cures to this disease.
LQHBA encourages everyone attending the races on July 8to to wear pink in support of Susan G. Komen Acadiana.
In addition, two $2,000 college scholarship drawings will be awarded as part of the very special evening saluting accredited Louisiana-bred racehorses. Louisiana High School Graduates or those graduating from a Louisiana High School in 2018 and planning to attend a higher education institution can sign up at the LQHBA Scholarship Registration Table (located at the foot of the escalator on the casino level), beginning at 5:30 pm (CDT).
Registration will close promptly at 7:45 pm (CDT). The scholarships will be drawn live in the winner's circle immediately after the sixth race and entrants must be present to win. More information on the scholarship eligibility can be found on LQHBA.com.
LQHBA board members, local legislators and dignitaries will be at Delta Downs for each of the presentations.
While the primary goals of the LQHBA is to promote breeding and racing in the state, the association remains dedicated to offering higher education for Louisiana youth. Since its inception in 2001, the LQHBA scholarship program has earmarked over $500,000 for Louisiana students to attend a higher education institution.
The scholarship program was the vision of the late Jim Mitchell and late Leverne Perry, longtime LQHBA Executive Director, and is supported strongly by the LQHBA and its board members. Last November, on LQHBA Breeders Futurity Night at Evangeline Downs, live scholarship drawings took place in between races, and Louisiana students and their families enjoyed the annual million-dollar futurity and drawings for scholarship awards.
"Giving back to Louisiana charities and supporting our scholarship program is extremely important to our association and we thank our sponsors for their continued support," said Tony Patterson, LQHBA executive director. "We look forward to an exceptional evening of racing at Delta Downs on July 8 and to saluting Louisiana students and the great work of Susan G. Komen Acadiana."
For more information on the Louisiana Quarter Horse Breeders Association, visit their website at LQHBA.com or contact them at (318) 487-9506.