Louisiana Quarter Horse Breeders Association (LQHBA) Unveils New Website
LQHBA launched a new version it's website and a facebook page today.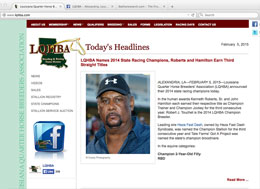 ALEXANDRIA, LA—FEBRUARY 6, 2015—
The Louisiana Quarter Horse Breeders Association (LQHBA) is pleased to announce the launch of a new and updated version of their website at
lqhba.com
.
In an agreement with LQHBA the site, which went live on Thursday, February 5, was designed by StallioneSearch and is hosted by The Jockey Club Information Systems (TJCIS). TJCIS programmer Christy Horton worked closely with StallioneSearch and the LQHBA staff to create a clean, easy to navigate site. StallioneSearch will be responsible for content.
With a click, visitors to the website will be able to get the latest updates on LQHBA membership, racing, including futurity and derby payments, qualifiers and previews and recaps of all the major stakes. On the breeding side, the latest information on mare and stallion incentives will be easily accessible.
Special features include Stallions Spotlight offering a preview of Louisiana-based sires, stud fees and breeding farm contact information. The website will also feature the LQHBA Insider, shining the spotlight on a Louisiana breeder, owner, trainer or jockey each month. Rider John Hamilton is profiled in this month. Additionally, the website will include the "Google" translate button on the left side of the page, allowing any visitor to click and view information on the site in Spanish.
LQHBA is the official registry of accredited Louisiana-bred Quarter Horses. Louisiana is the leading state-bred program in the country with over $4.65 million dollars in mare and stallion awards and purses paid at the four Louisiana racetracks exceeded $23 million in 2014.
"Updating our website was a very strong priority for our association," said Tony Patterson, executive director of the LQHBA "Serving our members is our main focus. Now they will be able to easily find important information on accreditation for Louisiana-breds, breed programs, Youth Scholarships and our other programs."
LQHBA conducts two sales each year: the Yearling Sale in August and a Fall Mixed Sale. Last year, LQHBA sent over 3,500 sale catalogs to interested parties, not only in the United States, but Mexico and Canada.
"The new website will allow horsemen from all regions to get the most up-to-date information on our sales," added Patterson. "Plus, with one click, anyone interested can access sale results dating back to 2007."
Also, LQHBA is proud to announce they are now on Facebook.
Log onto www.facebook.com/LouisianaQuarterHorseBreedersAssociation to "like" the page and view up-to-date news and information about the Louisiana Quarter Horse industry, racing highlights, photos and much more. Become a "friend" by February 28, 2015 for a chance to win a $100 gift card, courtesy of LQHBA.
For more information on the Louisiana Quarter Horse Breeders Association, visit their website at lqhba.com, or contact them at(318) 487-6033 (visit on Facebook or become a Twitter follower @LQHBA.