Firecracker Futurity(G2) Recap(VIDEO)
One Fine V, under jockey Victor Ureita, Jr. won the $305,865 Grade 2 Firecracker Futurity at Delta Downs Saturday night.

© Coady Photography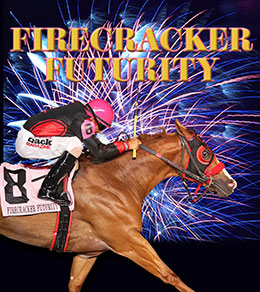 VINTON, LA– JULY 9, 2022–StallioneSearch.com releases its webcast coverage of the 2022 Firecracker Futurity(G2) from Delta Downs in Vinton, Louisiana.
StallioneSearch.com was on hand to for One Five V's dominating win in the $305,865 final Saturday night. The daughter of leading One Famous Eagle races for owners Jose Maria Garza and Mario H. Vazquez and is trained by Josue Ponce. The 2-year-old Oklahoma-bred filly has won three of five starts and earned $298,210.
StallioneSearch's Greg Thompson spoke with winning jockey Victor Ureita, Jr and trainer Josue Ponce following the win.
CLICK THE ARROW below to watch the 2022 Firecracker Derby(G3) recap:
This weekend's coverage from Delta Downs continues the 2022 lineup of Louisiana Quarter Horse stakes events on StallioneSearch.com.
Throughout the 2022 racing calendar in Louisiana, StallioneSearch will or already has provided onsite coverage for these Louisiana-bred stakes races, as well as the non-state bred races of the Firecracker Futurity(G2) and Firecracker Derby(G3).
Those races include:
• Mardi Gras Futurity
• Mardi Gras Derby
• Louisiana Futurity
• Lassie Futurity
• Laddie Futurity
• Firecracker Futurity
• Firecracker Derby
• Lee Berwick Memorial Futurity
• Louisiana Classic Stakes
• Delta Downs La Bred Derby
• LQHBA Breeders Sales Futurity
• LQHBA Million Futurity
• LQHBA Breeders Derby
Coverage of the Firecracker Futurity(G2) weekend of coverage is sponsored entirely by the Louisiana Quarter Horse Breeders Association. The LQHBA will be hosting the 2022 LQHBA Yearling sale in Kinder, Louisiana on August 5-6, 2022.