Delta Downs To Host Night-Time Training May 21 thru 23
Delta Downs announced a night-training schedule for Thursday, Friday and Saturday of this week.

© Delta Downs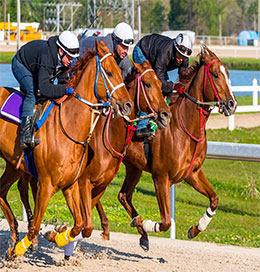 VINTON, LA—MAY 19, 2020—
Delta Downs announced today they will host three-nights of "night-time" training this week on Thursday May 21, Friday May 22 and Saturday 23.
The Vinton, Louisiana track will be closed for morning works on these dates.
Thursday thru Saturday the racetrack will open from 5pm to 7pm (CDT) for regular training. The track will then close from 7pm to 7:30 pm for renovation. Gates will be set at 220 yards for Two Year Old schooling from 7:30pm to 10:30pm. Plan are to limit gate sets to four horses.
For additional information contact Chris Warren, Delta & Evangeline Downs Director of Racing, at 337-589-9020.