Second Payment Due on 2018 Louisiana Million Futurity
Louisiana-bred foals of 2016 must make a second payment on Wednesday to remain eligible for the Louisiana Million Futurity(G1).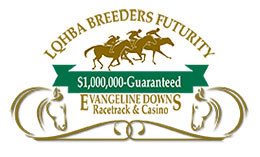 ALEXANDRIA, LA—FEBRUARY 14, 2017—
The second payment for the 2018 Louisiana Million (formerly the LQHBA Breeders' Futurity is due Wednesday, February 15th.
Nominators must send a $150 payment to remain eligible for state's richest Quarter Horse race. Payments should be made payable to LQHBA and post marked no later than Wednesday (Feb. 15) to P.O. Box 12300, Alexandria, LA 71315-2300. The associations physical address is LQHBA, 105 Carlyon Lane, Alexandria, LA 71303.
Currently there are 878 state-bred yearlings eligible for the restricted Grade 1 Louisiana Million Futurity and the $200,000-added Louisiana Million Invitational Stakes to be run over 400 yards at Evangeline Downs in the fall of 2018. CLICK HERE for a current list.
For a complete Louisiana Million Futurity nomination blank CLICK HERE.
For additional information visit the LQHBA website at lqhba.com or call (318) 487-9506.