LQHBA Fall Mixed Sale, Minimal Investments for Quality Racing and Breeding Prospects
LQHBA Fall Mixed Sale will be held Saturday, October 29 in Opelousas, Louisiana.

© Equine Sales of Louisiana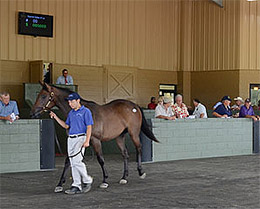 By Martha Claussen
OPELOUSAS, LA—OCTOBER 20, 2016—The Louisiana Quarter Horse Breeders Association (LQHBA) will present its 2016 Fall Mixed Sale on Saturday, October 29. The action begins at 10:00 am at the Equine Sales of Louisiana, LLC sale pavilion in Opelousas, Louisiana.
This marks the third year that the event will be held in Opelousas, just minutes away from Evangeline Downs, which is in the middle of its annual Quarter Horse racing season.
The catalog lists 202 head and gives prospective buyers a wide selection from weanlings and yearlings, to broodmares, stallions and horses of racing age. Since 1986, the sale has offered consignors an opportunity to close out their year with a boost in sales and buyers one more opportunity to purchase a broodmare, weanling, yearling or racehorse in training.
Many consignors point out that due to a variety of reasons, some yearlings are not ready in August. Horsemen appreciate an additional three-month window to evaluate some of the late developing babies for the sale ring.
The LQHBA Yearling Sale is a two-day event held in Kinder, Louisiana each August. Lyle Guillory, who serves as both the secretary and treasurer of the association, explains the goals of the Mixed Sale.
"The additional sale provides an outlet for yearlings that are born late or injured and unable to be ready for our yearling sale," said Guillory. "In addition to yearlings we also have a good selection of mares and short yearlings that are available for buyers that may want to enter the lucrative Louisiana-bred program. Lastly providing a quality fall mixed sale in Louisiana without having to travel outside the state eliminates cost which goes directly to the bottom line of our consigners."
Horsemen who purchase one of the weanlings or yearlings in the Fall Mixed Sale are in luck as the majority of the young horses in the sale are currently eligible for the LQHBA Breeders Futurity. The race, held at the end of November at Evangeline Downs, is the only seven-figure futurity in Louisiana.
Consignors Preparing Their Stock
Over 59 consignors in Louisiana are making final preparations to send their horses to Opelousas. Robicheaux Ranch, Blanchet Farms and Hebert Quarter Horses are among the larger consignors and agents. Progeny of noted stallions Coronas Leaving You, Game Patriot, Heza Fast Dash, Jess Louisiana Blue and Tee Cos will be well-represented.
Last year's sale topper, The Louisiana Lassie, was purchased by Jumonville Farms for $55,000, but attendees will also find many very affordable prospects on October 29. One major incentive to those looking for a yearling is the added incentive of eligibility for the LQHBA Breeders Futurity.
There are 78 yearlings that will pass through the sale ring for the 2016 LQHBA Mixed Sale. Payments are up to date for 63 for next year's event. The catalog also has 16 weanlings listed and five of the current owners have made the first payment to the 2018 LQHBA Breeders Futurity.
"With 148 guaranteed live racing days annually in Louisiana, there is a great deal of money for both 2-year-olds and older horses in our state," said Tony Patterson, LQHBA executive director. "There have been so many success stories of buyers making a minimal investment at our sales and reaping huge rewards. We hope our Fall Mixed Sale will fulfill the dreams of many prospective owners."
Venue Move to Opelousas A Success
The 2014 event had a change of venue to the Equine Sales of Louisiana, LLC sale pavilion in Opelousas, Louisiana. LQHBA board members made the decision to move the event to enhance the big racing weekend which is highlighted by trials for the $1 million LQHBA Breeders Futurity.
"Changing venues is sometimes a scary proposition as it was in this case and doing so our board took a great deal of time and effort to find a new location that would benefit our association," said Guillory. "We are pleased to have found a state-of-the-art facility with a great atmosphere located minutes from Evangeline Downs, The new venue has been successful so far and we are doing everything we can to continue this trend."
Game Patriot Breeding to Benefit the LQHBA Scholarship Program
A breeding to Game Patriot will be auctioned live during the sale with the proceeds to benefit the LQHBA Youth Scholarship program. Game Patriot stands at Robicheaux Ranch and has produced quality racing offspring who have earned more than $26 million.
2014 LQHBA Leading breeder Bobby Touchet owns Game Patriot and trained him throughout his racing career. A son of Chicks Beduino out of the First Down Dash mare Fire And Nice, Game Patriot won seven of his 15 starts. As a stallion, his exceptional offspring include Jet Black Patriot, Game, AB Hope for Cash and Watergirl B, the upset winner of the $690,295 Lee Berwick Futurity (RG1) on July 9, 2016 at Delta Downs.
"Game Patriot was my dream come true," said Touchet. "I have been in this business my entire life and never had a horse as good as him. I enjoyed training him and love seeing his babies become champions."
Touchet welcomed the chance to give back to the association in offering the breeding, which will be auctioned right as the sale begins at 10 am.
"I believe in youth and education," stated Touchet. "Let's hope we raise good money for this very important scholarship program."
Since 2001, the LQHBA scholarship program has provided financial aid for students to attend a higher education institution. Over $430,000, has been earmarked for this program since its inception.
The scholarship program was the vision of the late Jim Mitchell and Executive Director Emeritus Leverne Perry, and is supported strongly by the LQHBA and its board members. Last November, on LQHBA Breeders Futurity Night at Evangeline Downs, live scholarship drawings took place in between races, and Louisiana students and their families enjoyed the million dollar futurity and four drawings for scholarship awards of $1,500. One very fortunate student, Cassie Babin was the recipient of a $5,000 drawing.
Tony Patterson, LQHBA executive director, confirmed that $11,000 in scholarships to Louisiana students will be awarded on November 19 at Evangeline Downs.
"We are very grateful to Bobby Touchet for the generous donation," said Patterson. "Game Patriot is one of the most respected stallions in Louisiana and we are confident that the auction will attract some great bids and really benefit our scholarship program."
LQHBA Breeders Derby and Futurity Trials Set for October 28-29
Friday evening will be a big night at Evangeline Downs with trials for the $1 million LQHBA Breeders Futurity. A special post time is 4:35 pm has been set for 15 trials with the ten fastest qualifiers to return on Saturday, November 19. The winner will earn nearly $450,000!
The LQHBA Mixed Sale gets underway at 10:00 am and will wrap up with plenty of time prior to the Saturday night card at Evangeline Downs, which will feature trials for the second annual LQHBA Breeders Derby.
"This is a very important weekend for the Louisiana Quarter Horse Breeders Association," said Patterson. "We look forward to a successful sale and to welcoming many breeders, owners and horsemen for the trials for the $1 million LQHBA Breeders Futurity trial on Friday evening and the LQHBA Breeders Derby trials on Saturday evening at Evangeline Downs."
* * * * * * * * * * * * * * * * * *
Martha Claussen served as publicity director at Sam Houston Race Park for ten years. She continues to be active in writing, fan education and Quarter Horse racing publicity in Texas, Louisiana and other regions in North America.
* * * * * * * * * * * * * * * * * *
FACT BOX
2016 LQHBA Fall Mixed Sale
Saturday, October 29 - 10:00 am
Equine Sales of Louisiana, LLC
372 Harry Guilbeau Road
Opelousas, Louisiana 70570
Free and open to the public<> Sale catalog available online at www.LQHBA.com or by calling (318) 487-9506.
Live streaming of the 2016 Fall Mixed Sale will be available on the Louisiana Quarter Horse Breeders Association website: www.lqhba.com.