StallioneSearch Releases Louisiana Downs QH Report: Episode 3
Episode 3 of the 2016 Louisiana Downs Report is now available.

© Lou Hodges Photography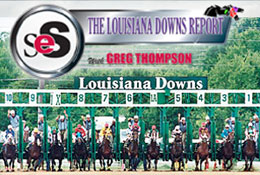 BOSSIER CITY, LA—FEBRUARY 5, 2016—
Stallionesearch releases episode 3 of the
Louisiana Downs QH Report
, highlighting the Quarter Horse racing action of the 2016 Quarter Horse meet at Louisiana Downs in Bossier City.
Episode 3 focuses on recapping the running of $25,000 Party Girl Stakes and the $15,000 Swift Stakes. Episode 3 also previews the upcoming $25,000 Magnolia Stakes at 870 yards.
This week's Sire Spotlight goes to the sire Jess Louisiana Blue.
CLICK HERE to watch Episode 3.
The 2015 Louisiana Downs QH Report is sponsored by the Louisiana Quarter Horse Breeders' Association, Delta Equine Center, Robicheaux Ranch, Inc., and Acadiana Equine Hospital.