LQHBA Reports 1,052 Accredited State Bred Foals For 2019
The LQHBA reported today they accredited 1,052 foals at state-breds for 2019.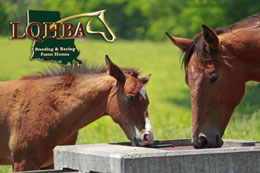 ALEXANDRIA, LAŚNOVEMBER 3, 2020Ś
The Louisiana Quarter Horse Breeders' Association (LQHBA) released a list of Louisiana-bred foals for the 2019 foaling year.
"This list represents foals of 2019 that have been issued an accredited Louisiana Bred Certificate," LQHBA Executive Director Bruce Salard said today. "The number to date is 1,052 accredited foals for 2019."
This list will be utilized by all four Louisiana racetracks to assist in identifying "Accredited Louisiana Bred foals of 2019".
Salard also indicated the association has received over 50 applications and payments that require owner verification, lease verification, partnership documentation and/or 2019 membership dues owing.
"We have notified all owners by mail and phone," Salard said. "We will update the list again after year-end."
CLICK HERE for a current list of 2019 "Accredited Louisiana Bred" foals alphabetical list by DAM.
Horsemen and women are reminded a DAM can only have one (1) "Accredited Louisiana Bred" foal per year.
For additional information visit the association's website at lqhba.com or call (318) 487-9506.